SJMC master's program hosting social
The Drake Master of Communication Leadership program is hosting a networking event from 5:30 to 7:30 p.m. on Thursday, Dec. 3, at Jethro's on Forest Avenue west of Drake. All MCL students, alumni and faculty are invited, along with anyone interested in finding out more about the program.
Iowa Supreme Court recognizes SJMC Dean Richardson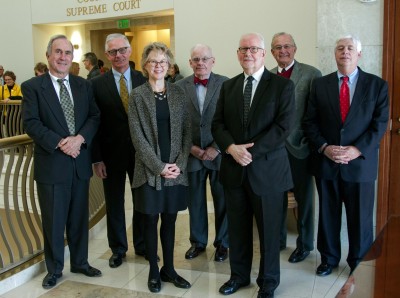 From left: Justice Brent Appel, Chief Justice Mark Cady, Richardson, Iowa Cubs owner and journalist Michael Gartner, Laird, Strentz, Justice Mark Wiggins
The Iowa Supreme Court last week recognized SJMC Dean Kathleen Richardson and retired Des Moines Register editorial page writer Rox Laird for their work promoting justice in Iowa. Richardson recently resigned as executive director of the Iowa Freedom of Information Council, a nonprofit coalition of journalists, librarians, attorneys, educators and others concerned about open government Laird is a former president of the Council. Former SJMC media law professor Herb Strentz preceded Richardson as IFOIC executive director.