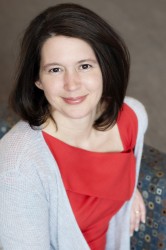 Renee Ann Cramer, associate professor and chair of law, politics, and society department at Drake University, published a new book about cultural obsession with celebrity pregnancies.
"Pregnant With The Stars," published by Stanford University Press, examines the American fascination with, and judgment of, celebrity pregnancy and exposes how our seemingly innocent interest in "baby bumps" actually reinforces troubling standards about femininity, race, and class, while increasing the surveillance and regulation of all women in our society.
Cramer investigates and compares the media coverage of pregnant celebrities including Jennifer Garner, Angelina Jolie, Beyonce, Kristen Bell, Jodie Faster, and Mila Kunis, to show how women are categorized and defined by their pregnancies.
"Our popular culture obsession with celebrity pregnancy is about much more than a need to partake in some diversionary fluff," Cramer said. "Rather, the exponential growth in websites, magazines, and infotainment television devoted to 'the baby bump' is indicative of America's obsession with judging, commodifying, surveilling, and regulating average women's reproducing bodies. Pregnant with the Stars touches on the real-world ramifications of our gaze at Hollywood's bellies."
More information about the book, as well as sales information, is available on the Stanford University Press website, http://sup.org/books/title/?id=24571.