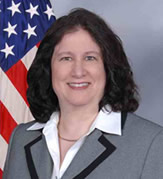 With a staff of more than 2 million on-duty and civilian personnel, the U.S. Department of Defense represents the most significant portion of federal discretionary spending. The department spent more than $280 billion on defense contracts in 2014—for goods and services ranging from Humvees to fighter jets to aircraft carriers. But who oversees the department's purchases to ensure taxpayers and the military are getting what they paid for?
Drake University alumna Anita F. Bales will discuss her work as director of the United States Defense Contract Audit Agency (DCAA), an organization that provides oversight of federal defense contract spending, during a free public lecture next month. "The DCAA: Auditing in the Public Interest" will begin at 7 p.m. Thursday, Nov. 5, in Sheslow Auditorium.
The DCAA is charged with auditing defense contracts to ensure accuracy and completeness of financial records and reports. The agency has a staff of about 5,000 people across more than 300 offices around the world. During her upcoming lecture, Bales, who has directed the agency since September 2014, will discuss the organization's role in safeguarding taxpayers while protecting the interests of the military.
"It's important for students and members of the public to hear that accounting is not just about keeping track of profitability and financial performance, but also serves a vital role in protecting taxpayer money and can even help to ensure national security," said Stephen Gara, director of the School of Accounting at Drake University.
Bales earned her Bachelor of Science in Accounting from Drake University in 1983 and serves on the Professional Advisory Board for the university's School of Accounting. She earned a Master of Business Administration from the Martin J. Whitman School of Management at Syracuse University, where she graduated at the top of her class, in 1998. She began her career as an auditor in 1984 with the U.S. Army Audit Agency (USAAA) and has progressed through the ranks as an audit supervisor, audit manager, and program director. In 2006 she entered the Senior Executive Service as the Deputy Auditor General, Forces, and Financial Audits, USAAA. She served as the principal advisor to the Auditor General, U.S. Army., and most recently served as assistant to the director of the DCAA.
The presentation is part of an annual lecture series hosted by Financial Executives International (FEI) and Drake University's School of Accounting.
For more information, contact Stephen Gara at 515-271-2156 or stephen.gara@drake.edu.