Greg Carenza, GR'11, principal at Webster Elementary School in Urbandale, Iowa, recently came across the group photo of his first students, a class of kindergartners he taught as a rookie teacher in 1998. While looking at the young, smiling faces—recalling the names and personalities of each child—it dawned on him that these fresh-faced kids were now likely through college and entering the working world.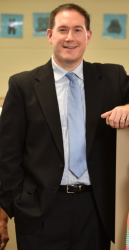 And what a world it is.
Those kindergarteners started school when the Internet was still in its infancy. Cell phones were far from the ubiquitous accessory they are today. Technology and globalization have changed schools—and the way students learn—in ways unimaginable just 20 years ago.
"There's no way I could have predicted at that time what they would be facing today and what the workforce now demands," he says.
The same is true of the students under his care today, he adds. An uncertain future is one of the major challenges facing educators today as they respond to shrinking budgets, rapidly advancing technology, and expanding information sources.
"Schools look largely the same these days as they did 20 years ago," says Carenza. "The classrooms, the lockers, the brick buildings. But they are very different and much more focused. We really focus on relationships here, on collaboration and creating partnerships to meet students' needs."
Those relationships, he emphasizes, have tremendous impact on students and teaching. "The increased collaboration among teachers, administrators, educators, students, and the community is essential to meeting the needs of students today, whether those needs are technological, social, or emotional."
Carenza says the focus on relationships at Drake—whether through service learning, consultation, or simply offering advice and guidance as a peer—keeps faculty in touch with best practices in the profession and the real-world application of theoretical knowledge.
"Building a positive culture and climate in a school starts with understanding the importance of building relationships," says Tom Buckmiller, assistant professor of education at Drake University. "We want to be connected to the local Iowa districts, and we enjoy getting out into the schools to learn with our students and current administrators in the field. This helps us stay current with what is happening on the front lines of education."
That commitment impressed Carenza as a graduate student, where he earned his Specialist in Education Leadership degree in 2008 and his Doctor of Education degree in 2011, both from Drake's School of Education. Now, as a professional working in the field, it's what convinced him that the University is on point with its approach to educating teachers and staying abreast of a quickly changing profession.
"The instruction they provide is really about your world, not just theoretical instruction. And it's good to know that I can still call on them at any time and they will be there to assist me. If I called a professor at Drake right now and said 'I'd like to study this subject,' they'd encourage me and do whatever they could to assist me in doing so," says Carenza. It's a very unique and symbiotic relationship that I've maintained with Drake. And that is big. Very big."