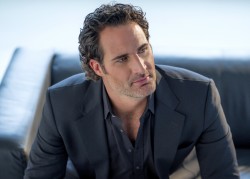 Drake University is proud to present the second performance of the Jordan Concert Series featuring internationally acclaimed tenor James Valenti. The concert will be held at 7:30 p.m. Saturday, October 17 in Sheslow Auditorium and is free and open to the public. Valenti will be accompanied by pianist, Danielle Orlando.
The Jordan Concert Series is named in honor of Alice and Frank B. Jordan, a prominent couple in Drake's history. Alice (Yost) Jordan graduated from Drake University in 1938 and married Dr. Frank B. Jordan, a long-time professor of music and former dean of Drake University's College of Fine Arts.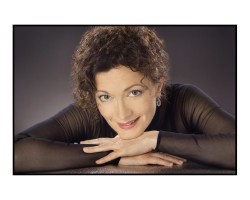 Alice Jordan published more than 250 choral and organ works during a lengthy career as composer; several of her works were performed during international concerts, as well as at a White House concert. She was active in the Des Moines community, serving on the boards of the Des Moines Symphony Association, the Des Moines Women's Club, the Drake Alumnae Association and as president of the Des Moines Civic Music Association. She received an honorary Doctor of Fine Arts degree from Drake in 2006 and was inducted into the Iowa Women's Hall of Fame in 2002.
The Jordans founded the Jordan Concert Series in 1992 with instructions for the series to begin upon the death of the last surviving partner, which turned out to be Alice, who died in 2012. The Jordan Concert performance will take place on their namesake venue, the Jordan Stage of Sheslow Auditorium.
Valenti has a voice of Italianate lustre and is part of the long-standing tradition of great Italian tenors. The sought after 6'5″ tenor has built a global reputation for his elegant musicianship, commanding stage presence, and ardent vocal style. Valenti has received a number of accolades in his young career including the New York City Opera's Outstanding Debut Artist Award in 2008, the Maria Callas Debut Artist Award in 2009 and the Richard Tucker Award in 2010.
When Valenti is not performing, he is an active humanitarian and gives his time to a number of charitable organizations, including Children International, which he currently represents as a celebrity ambassador. Valenti always makes time in between his rigorous performance schedule to also give back to young emerging artists and has given master classes at University of Texas, University of Arizona, Northwestern, St. Olaf College, University of Minnesota and at his undergraduate alma mater, West Virginia University where he recently received the honor of the Distinguished Alumnus Award 2014.
For more information contact Nicholas Roth, Professor of Piano, at nicholas.roth@drake.edu or 515-271-2857.