In a new film that surveys 800 miles of wilderness, one view in particular may catch Bulldogs' attention—a lingering shot of a Drake University diploma.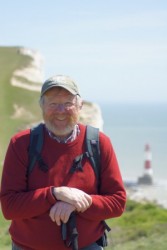 The diploma belongs to bestselling author and Drake alumnus Bill Bryson, AS'77, and it hangs among many other degrees in the author's home in New Hampshire. It's one of several items of Drake memorabilia the University sent the film crew for inclusion in the film "A Walk in the Woods." A Drake mug can also be seen, briefly, early in the film's runtime. They're just a few items that recognize Drake's role in the life of a writer whose many books have sold millions of copies and been translated into dozens of languages.
"A Walk in the Woods" chronicles a hike that Bryson (portrayed by Robert Redford) took along the Appalachian Trail in 1998 with longtime friend Matt Angerer (known in the film as Stephen Katz and played by Nick Nolte). The two struggle to conquer the challenges of the hike, soak in the beauty of the scenery, and reflect on their youth and on the process of aging.
Throughout the film, Bryson experiences a sort of psychological homecoming.
"I want to explore nature," Bryson says early in the film. "Get back to my roots."
Bryson has deep roots in Des Moines, where he was born and raised—he attended Callanan and Roosevelt schools with Angerer—and at Drake, where his mother earned her bachelor's degree in 1936. He enrolled at Drake University in the early 1970s to study politics, took a break from his studies for a European backpacking trip (again with Katz), and came back to complete his bachelor's degree in 1977. After graduation his life and work took him back to England, where he lived for more than 30 years, and to New Hampshire, where he lived during his hike along the trail.
By the time he returned to Drake's campus to present the spring Martin Bucksbaum Distinguished Lecture in 2009, he'd not only hiked a portion of the Appalachian Trail, but written books that had sold 10 million copies worldwide and been translated into 20 languages. Drake's National Alumni Association recognized Bryson's accomplishments with an Alumni Achievement Award, noting that his "A Short History of Nearly Everything" won both the Aventis Prize and the Descartes Prize.
And the university awarded Bryson an honorary Doctor of Humane Letters—one more degree to proudly display on his wall, and one more memory from an extremely eventful and accomplished life.