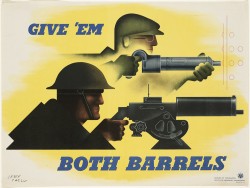 Exhibition features over fifty original posters produced by American designers to persuade the public to support wartime efforts
Drake University's Anderson Gallery will open its new season with "Ideas at War: American Propaganda Posters of World War II," an exhibition featuring more than 50 original wartime posters from the collection of the State Historical Museum of Iowa. The exhibition, curated by John Fender, designer and associate professor of graphic design at Drake University, will open on Friday, Sept. 11 with a reception from 5 to 7 p.m. at the Anderson Gallery in Drake's Harmon Fine Arts Center, 2505 University Ave. "Ideas at War" will remain on display through October 23.
Exhibition Overview
"Ideas at War" highlights the work of American designers as part of the vast propaganda machine responsible for appealing to the public for support of the war effort. Visually striking modern designs from the "loose lips" campaign, or those urging the conservation of resources or purchase of war bonds, all appear as part of the exhibition. Perhaps less well known are progressive posters such as those illustrating proud Woman Ordnance Workers or advocating for integrated workforces by highlighting the participation of African Americans in the war effort and the achievement of African American soldiers.
Fender selected the posters on exhibition from among hundreds available within the State Historical Museum of Iowa's collections. Fender approached the selection with two things in mind: in addition to selecting posters that were thematically unusual, visually stunning, or socially progressive, he also selected posters that represent elements of an underlying conflict present within the American ad agencies and government offices that created and distributed posters between 1941 and 1945. Progressive artists and designers utilizing the new modern visual language clashed—artistically and ideologically—with those who advocated the use of traditional illustration, much more in the vein of imagery popularized during the First World War. These "ideas at war" significantly altered the visual landscape of American wartime advertising and poster design, a theme explored in detail by Fender in his critical essay within the catalogue that accompanies the exhibition.
Related Events
John Fender will give a free public lecture titled "Ideas at War" at 6 p.m. Thursday, Sept. 17, in room 336 of the Harmon Fine Arts Center, 2505 Carpenter Ave. Fender has taught on the faculty of the Department of Art and Design since 1999. He is head of the graphic design program and acts as the Design Director for the Anderson Gallery. He received a B.F.A. in Design, a M.A. in Design and was awarded an M.F.A. with Commendation in Design, all from The University of Iowa.
About the Anderson Gallery
The Anderson Gallery was established in 1996 as a dedicated space for the exploration of contemporary art and design. Additionally, the gallery hosts curated exhibitions of historically significant work as well as annual showcases of student work from the Department of Art and Design. All exhibitions and events are free and open to the public.
General Information
The Anderson Gallery is open Tuesdays, Wednesdays, and Friday through Sunday, 12 p.m. to 4 p.m.; and extended hours on Thursdays from 12 p.m. to 8 p.m. The gallery is closed on Mondays and during University holidays. Free and open to the public. More information is available at 515-271-1994 or theandersongallery.wordpress.com.