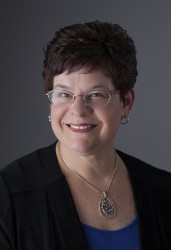 Shelley Fairbairn, associate professor of education, is co-author of a new book that guides the development of school curricula to address the needs of English Language Learners.
"Engaging English Learners Through Access Standards: A Team-Based Approach to Schoolwide Student Achievement" was co-written by Stephaney Jones-Vo, ESL/diversity consultant at the Heartland Area Education Agency in Johnston. Fairbairn and Jones-Vo use a six-part strategy through which districts and schools can develop collaborative, cross-curricular programs that address English Language Learner-specific needs.
The book was published in August by Corwin Press, which describes itself as the premier provider of professional learning resources that equip preK-12 educators with innovative tools to improve teaching and learning.
Fairbairn and Jones-Vo previously published another book on ESL instruction. "Differentiating Instruction and Assessment for English Language Learners: A Guide for K-12 Teachers" was published in May 2010 by Caslon Publishing.
Fairbairn's areas of teaching focus include preparing pre-service teachers to design effective lessons plans and assessments for K-12 students. Other focus areas include empowering pre- and in-service teachers to meet the needs of English language learners through linguistically and culturally responsive practice. She also directs on- and off-campus English as a Second Language teaching endorsement programs.
Prior to joining the Drake University School of Education faculty, Fairbairn concurrently taught English as a second language courses for the Drake University International Center and served as a K-12 ESL teacher in two Des Moines area school districts. Her teaching experience includes three years of teaching English as a foreign language in Jakarta, Indonesia, and one year of teaching ESL and ESL certificate courses at Regional Language Centre in Singapore. More recently, she has conducted teacher professional development sessions and workshops in China, Canada, and across the U.S., often with Jones-Vo.