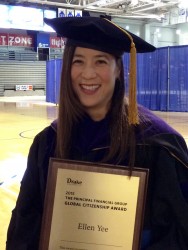 Drake Law School professor Ellen Yee was recently honored with the inaugural Principal Financial Group Global Citizenship Award.
The annual award recognizes one Drake faculty or staff member who has made "outstanding contributions to global engagement and internationalization of the campus and curriculum."
Yee was announced as the award winner and presented with a plaque during the Fall 2015 Convocation on Aug. 28.
Read more in a full article on the Drake Law School website.