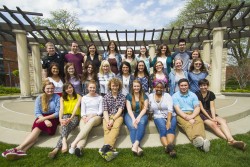 Drake University journalism students nabbed top honors in the 2015 Association for Education in Journalism and Mass Communication (AEJMC) Student Magazine Awards.
Urban Plains was named the best online magazine; Kayli Kunkel, JO'15, won first place for first-person article; and junior Molly Longman won second for feature writing.
The online magazines were judged by Benjamin Pauker, executive editor of Foreign Policy magazine, who said of Urban Plains: "Very nicely done. Ambitious journalism, multi-media rich with graphics and video, nice range of topics."
Syracuse University won second place; the University of Missouri, third; and the University of Arizona, honorable mention.
UrbanPlains.com is a capstone publication produced by seniors in Drake's School of Journalism and Mass Communication. For the first time, the spring 2015 capstone combined students in the magazine, radio-TV producing and broadcast news majors. In June, Urban Plains won a bronze Telly Award for an episode of its webcast, "Listen Up." The Art Directors Association of Iowa also recognized the website and designers Erin Menardi and Nicole Kasperbauer at its annual design exhibition in June.
Kunkel's first-place writing award recognized "Running Toward Grief," published on PasteMagazine.com. "There are a lot of entries about coping with death, and this is by far the strongest and most moving," wrote the judge, Jennings Brown, staff writer at Vocativ. "It's one of the only pieces that I got caught up in and forgot I was judging a contest."
Longman won second in the feature article category for "The Midwest's Traffic Trap," published in the fall 2014 Drake Magazine. The category was judged by Esquire writer Mike Sager.
The contest, judged by media professionals, is sponsored by the Magazine Division of the Association for Education in Journalism and Mass Communication.