A new website provides comprehensive information and analysis of presidential campaigns in Iowa leading into the state's first-in-the-nation caucuses.
The Iowa Caucus Project, www.iowacaucusproject.org, is one of the most comprehensive interactive resources ever created for caucus and campaign information including event listings, candidate bios, voter demographics, original campaign analysis, and multimedia. The website was created by Drake University's Iowa Caucus Project and the Harkin Institute for Public Policy and Citizen Engagement. The site is updated daily by a team of faculty members and students and will continue to expand in the coming months.
"Through an unprecedented convergence of data, student support, voter input and faculty expertise, we've created a tool to help everyone from caucus novices to seasoned political experts better understand what candidates are doing in Iowa, and why," said Rachel Paine Caufield, professor in the department of political science and associate director for citizen engagement for the Harkin Institute.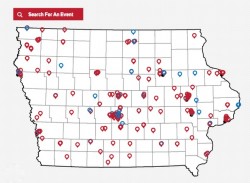 Customizable search tools help viewers learn about each candidate and track that candidate's past and future events in Iowa. Event information for each candidate can be sorted by county or date.
A fully interactive map of Iowa provides a wealth of county voter information—including the number of registered voters in each party, a breakdown of voters by religious affiliation, rates of home ownership and gun ownership, and much more. The map also provides a visual display of candidate visits.
"The Iowa Caucus Project website tells the stories not just of candidates in Iowa, but of the Iowa voters who will ultimately decide whom to advance toward the presidency," Caufield said.
An "About the Caucuses" blog provides sophisticated journalistic analysis from some of the state's most well-known and respected caucus experts, including:
Dennis Goldford, Drake University professor of political science, co-author of "The Iowa Caucuses: The Making of a Media Event" and the Harkin Institute's Flansburg Fellow for the study of media and the caucuses;
Richard Bender, who devised the Iowa Democratic caucus system in 1972 and worked on staff for retired U.S. Sen. Tom Harkin from 1977 to 2013;
Donna Hoffman, political science professor, University of Northern Iowa;
Chris Larimer, associate professor of political science at the University of Northern Iowa;
Don Racheter, chief operating officer of the Public Interest Institute in Mount Pleasant, Iowa, and retired professor of political science at Central College and the University of Iowa;
David Redlawsk, professor of political science at Rutgers University, director of the Eagleton Poll, and co-author of "Why Iowa? How Caucuses and Sequential Elections Improve the Presidential Nominating Process";
Herb Strentz, professor emeritus of journalism at Drake University and founder of the Iowa Freedom of Information Council.
The "On The Campaign Trail" section of the website gives first-hand analysis and commentary from a team of 12 Drake University students who are studying the caucuses this fall. Students will attend candidate events throughout central Iowa, talk to voters, meet candidates, and chronicle their experiences through the blog.
Iowans can also submit their own photos, videos, blog posts, and news items to help chronicle candidate events.
For more information about the Iowa Caucus Project, contact Rachel Paine Caufield at rachel.caufield@drake.edu or 515-271-1924.