When Cara Pratt, AS'12, launched her service with the Peace Corps in Paraguay, she brought with her an incredibly powerful tool—proficiency in Spanish. The Kenosha, Wisconsin, native double majored in Environmental Policy and International Relations at Drake, also earning her Certificate of Competence in Language and Culture in Spanish.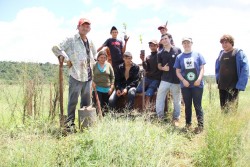 Being multilingual has opened professional doors for Pratt in the United States and abroad. Currently in her third year with the Peace Corps, she coordinates environmental education for the World Wildlife Fund, which entails working with farmers and indigenous communities on the border of Paraguay and Brazil.
"More than one person has asked me—in Spanish—where I learned to speak English, thinking I was Paraguayan," says Pratt. "Many people compliment my lack of American accent, which I attribute to immersive study from native speakers."
Beginning in Fall 2015, Drake students will be able to choose between the Spanish certificate program that propelled Pratt to proficiency and a minor in Spanish.
The new minor builds on an already rigorous program in which graduates test at language proficiency levels equal to or better than students earning minors from other schools. The primary difference between the two offerings is that the certificate requires study abroad and three related classes, while the minor requires 18 credit hours but not study abroad. In addition, the upper-level courses needed for the minor will include extensive community engagement. Ultimately, Drake's new minor designation helps convey the value of the Drake program to employers.
Drake continues to offer a Certificate of Competence in Language and Culture in Arabic, Mandarin Chinese, French, German, and Japanese, and—in Fall 2015—will offer beginning Italian. The robust certificate program requires students to demonstrate competence in a non-native language as well as an understanding of the cultural contexts of that language.
"World Languages and Cultures at Drake highlights speaking among the language skills," said Marc Pinheiro-Cadd, director of World Languages and Cultures. "Students speak extensively during each class session and also undertake activities with native speakers, usually international students, in out-of-class activities."
The result, he says, is a distinct professional edge. Students can combine the certificate program—and now the Spanish minor—with a variety of majors, adding value to their degree and bringing new opportunities.
Pratt put her Spanish to work right out of college, working as a field organizer with President Barack Obama's Organizing for America and communicating with the Spanish-speaking community in Sioux City, Iowa. She then studied Portuguese and went on to the Peace Corps, where she picked up Guaraní, which enables her to speak the local Jopará (a mix of Spanish and Guaraní).
"My language skills are integral to my current position in Paraguay," Pratt said. "We have a multicultural office, and all meetings and interactions are in Spanish. And in our work, it is common to hear people speaking Spanish, Guaraní, and Portuguese within a single community."
Today, Pratt can go anywhere. And it all started at Drake.
"Language and culture are so connected," Pratt said. "If I had just spent two years traveling without ever stopping to learn a local language, I would have missed so many cultural lessons."