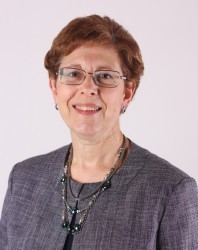 June Johnson, professor of pharmacy practice, is the primary author of a new casebook that helps student pharmacists and practitioners to provide quality diabetes care.
Diabetes Case Studies (with Interprofessional Perspectives) will be available exclusively in the American Pharmacists Association's online subscription platform, PharmacyLibrary, beginning June 1, 2015.  It provides teaching faculty and practitioners a rich source of case studies that focus on actual patients and provide longitudinal follow-up of patients.
In addition, the casebook integrates perspectives from other health care providers who are team members, helping to broaden readers' perspectives on how all members of the team can positively affect their patients' health outcomes.
The book features 12 real-world cases of patients with various diabetes situations and problems, incorporating an interprofessional perspective. The cases follow a consistent framework, using an approach adapted from the APhA textbook, Handbook of Nonprescription Drugs. Cases include eight thorough self-assessment questions for students and a detailed answer key for faculty. The cases follow a uniform format with objectives, required readings, key summary points, and supplemental resources. Faculty at institutions that subscribe to PharmacyLibrary also receive access to sample test questions and answers for each case (29 questions in all).
Johnson holds an Advanced Diabetes Management certification from the American Association of Diabetes Educators. She recently was named the 2015-16 president of the American Diabetes Association-Central region's community leadership board.
Read the APhA's press release in full at this link.