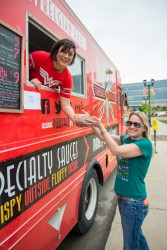 Food trucks: Coming to a downtown near you
Food trucks can now operate in downtown Des Moines thanks to the work of Drake Law School students.
In a Drake Law course on sustainability and law, students were tasked with writing ordinances for issues related to entrepreneurship, energy efficiency, waste management, and water management.
Drake Law students Kelly Ramsey and Dusty Clements and undergraduate student Alex Case, a senior Environmental Science major, latched onto the idea of food trucks, realizing it was something missing from an up-and-coming city like Des Moines.
They took the idea and ran with it, working closely with food truck operators and city leaders to create a city ordinance and pilot program that would allow food trucks to operate downtown. The Des Moines City Council approved the proposals this spring, and food trucks hit the streets this month.
"We had to face old-school mentality that the food trucks will be competition to businesses downtown," said Ramsey. "But we believe these businesses will actually benefit because the trucks will draw people out and increase traffic. We see food trucks as a big cultural attraction Des Moines needs."
The students continued to work on the project long after the class ended in December. In March, their work came to fruition as the Des Moines City Council unanimously passed the ordinance approving the pilot program.
"It's exciting to feel like you are part of a movement and to hear people on the streets talking about it and to know that we did that," Clements said.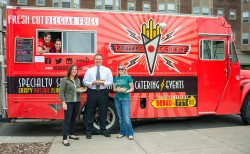 David Nelmark, AS'99, JO'99, is legal counsel for the Legion of Food, a nonprofit food truck association that assists mobile food truck vendors in Des Moines. He says although there are challenges to overcome— many vendors believe the city's permit cost is too high, for example—the food truck scene is much needed and long overdue.
"I've lived all over the country, and it's nice to see a food truck industry like those I have seen in other major cities take root," he said, citing Kansas City; Las Vegas; Minneapolis; and Portland, Oregon, among those towns with great mobile eats.
The program will kick off with the Iowa Beverage Food Truck Throw Down on May 30, featuring more than 10 food trucks, live music, and beer vendors. The students have seen the event take off, watching the RSVP list climb to over 6,000 attendees.
Available tax credit underused by Iowa growers
Another fruitful project led by Drake Law School students will help farmers maximize their donations to Iowa food organizations.
The Farm to Food Tax Donation Credit, adopted by the Iowa legislature in 2013, allows taxpayers to receive a 15 percent tax credit—up to $5,000—for donating fresh produce, meat, and other wholesome food items during the tax year. The credit was created to benefit farmers and to combat hunger in Iowa.
As is typical with a new program, the credit was under-utilized in its first year with only a small fraction of farmers and food organizations taking advantage. Iowa charities wanted to broaden awareness of the tax incentive to increase donations to food banks and other organizations aimed at improving access to food for low-income citizens.
That's where the Drake University Agricultural Law Center stepped in. The center prepared a set of documents designed to help producers and food organizations understand and utilize the tax credit.
"The process of making a donation and claiming this tax credit should be as simple and rewarding as possible," said Kelly Nuckolls, a second-year Drake Law student who helped prepare the documents. "These resources clearly explain the tax credit process and inform farmers and gardeners about the amount of money they can save each year on their taxes."
Fresh produce, dairy, and protein are the most requested items at the Iowa Food Bank Association's food pantries, but are often scarce because of their relatively high cost. Many Iowans don't see hunger as a problem in the state, but one in eight Iowans experience food insecurity—including one in five children who do not have enough to eat.