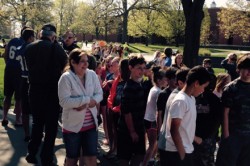 As part of Southeast Polk College Week, Mitchellville Elementary fourth and fifth graders visited Drake University campus on April 29. Trent Grundmeyer, Assistant Professor of Educational Leadership, and Joe Nelson, Principal of Mitchellville Elementary, put together a field trip creating a college experience for about 50 students. With the assistance of Drake faculty, staff and students, this was an opportunity for elementary students to experience a college campus in ways that many students are not able to.
The tour schedule included a stop at Meredith Hall where Drake football players and coaches greeted the kids as they came off the bus. They were ushered into a lecture classroom where they were shown a video and welcomed by Professor Elaine Smith-Bright of the School of Education.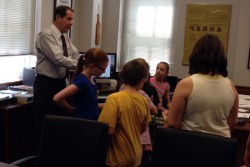 They continued on to Old Main where they met President Maxwell. He happened to be in his office and invited the students in his office where he explained his responsibilities as president. While the students sat at a conference table in his offices, he pulled out his guitar and played some jazz for them.
Additional stops were made at Cowles Library, Hubbell Hall, the School of Education and Harvey Ingram where they visited with a professor and viewed a laboratory. They toured a dorm room in Carpenter Hall and tended up at the football stadium where they sat in the stands and ate their sack lunches. Afterwards, the kids were invited to run around the famous blue oval. Upon boarding the bus, the students were given a Drake 'goodie bag' to take back with them.
After the field trip, Principal Joe Nelson provided feedback and reflections regarding the outing. "On behalf of Mitchellville Elementary, I would like to extend a HUGE thank you to each of you for your role in arranging our Drake Campus visit. Our fifth grade teacher, Laurie Flynn, said it was the most powerful day of learning our kids have ever experienced outside of Mitchellville! Thank you for opening the front door for many dreams. Our kids now have something to shoot for. A dream of a college education is a powerful thought for a ten or eleven year old kid. Thanks to our friends at Drake, we are convinced that our dream started yesterday on your campus for many of our kids."
Principal Nelson is no stranger to Drake University.  He is currently enrolled in the master's program for Educational Leadership in the School of Education.  He also most recently accompanied Dr. Grundmeyer on the J-term trip to Finland this past winter to study Finland's high-profile system of education. Dr. Grundmeyer stated, "this is just one of the examples of how the Educational Leadership team at Drake is providing opportunities for students."