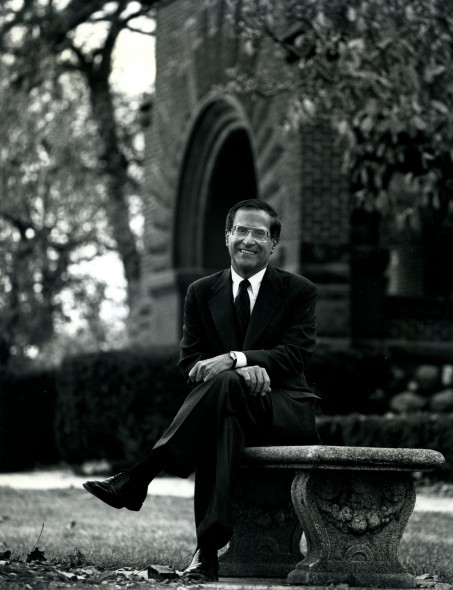 Michael Ferrari, who served as president of Drake University from 1985 to 1998, died on the evening of May 15. He was 75 years old.
Friends and colleagues remember Ferrari as a visionary leader who led Drake into an era of major philanthropy and capital project investment.
"He was a phenomenal planner and manager, and a respected scholar," said Don Adams, who served as Drake's vice president for enrollment management and student life from 1969 to 2007. "He helped put together a process through which we realized what Drake University could become."
In 1987, he oversaw the formation of a 330-member national commission—comprised of leaders in business, education, and government, and chaired by Drake alumnus and former Iowa Governor Robert Ray—to rigorously examine Drake's programs, plans, and aspirations.
Acting on the commission's recommendations, Ferrari—known to friends as Mick—launched The Campaign for Drake, a $115 million national fundraising program to advance Drake for students and society. It was the largest campaign in Drake's history at that time, and it met its goal a year ahead of schedule, with more than $130 million raised by the campaign's conclusion in 1993.
"Before The Campaign for Drake, the University's largest fundraising campaign had been $26 million," Adams said. "I can tell you that nobody on the Board of Trustees, nobody at Drake, was thinking in terms of $100 million when Mick arrived on campus."
Among the most visible outcomes of the campaign—and its successor, an even larger $190 million campaign focused on endowment and operational support completed after Ferrari left in 2001—were construction of the Knapp Center, the Roger Knapp Tennis Center, Dwight D. Opperman Hall and Law Library, Cline Hall of Pharmacy and Health Science, and Wifvat Plaza. Old Main Auditorium was renovated and rededicated as Everett A. Sheslow Auditorium. Fitch and Harvey Ingham halls and Cowles Library also underwent major renovations.
"He didn't use these words at the time, but he was building the foundation for a real culture of philanthropy at Drake and among our alumni base," said Associate Director of Alumni and Development Diane Caldbeck, ED'72, who has worked at Drake for more than 25 years.
Ferrari also had a knack for innovative marketing strategies that enhanced the learning experience and put Drake on the national map. In the early 1990s he partnered with Apple to launch a Mac-in-the-Room program that guaranteed every student access to a Macintosh computer in their residence hall room.
"It was an unbelievable, redefining moment in Drake's history," Adams said. "We became known as one of the top universities using technology at that time, and Mick did it for us."
But Ferrari caught Adams' eye long before either of them ended up at Drake. The two first crossed paths at Michigan State University, where Adams was residence hall director and Ferrari was an undergraduate student. Adams remembers Ferrari as a hard worker, a dedicated residence hall assistant, a fine trumpet player, and an honor student. He followed Ferrari's academic career as Ferrari pursued doctoral work at Michigan State—extensively researching the performance of university presidents—and graduated into administrative roles at Kent State, Wright State, Bowling Green, and the University of Cincinnati.
By the time Ferrari applied for Drake's presidency, "he had every credential you can have," said Adams, who served on the presidential search team. "Everywhere he went he was highly respected for what he had been hired to do."
Ben Ullem, who served on the Drake University Board of Trustees while Ferrari was president and is currently dean of the Drake Law School, said "Mick was the consummate professional in all the best ways. Visionary, steady, easy to like and respect. A delightful man. We will certainly miss him."
Following his career at Drake, Ferrari served as chancellor at Texas Christian University, where he served until 2003.
Drawing upon his extensive experience, Ferrari then established a higher education consulting firm, Ferrari and Associates LLC, in 2003, serving as president; he also was senior vice president and managing director of higher education practices at EFL Associates Inc., an executive search firm.
Ferrari served on the Board of Directors of the National Association of Independent Colleges and Universities, and the NCAA President Commission. He served as a trustee of the Foundation for Independent Higher Education, and as a member of the ACE Commission on International Education.
A visitation will be held on Tuesday, May 26, 2015, at Wenban Funeral Home, 320 Vine Avenue, Lake Forest, Illinois from 5-8 p.m. The funeral service will be Wednesday, May 27, at 10:30 a.m. at The Church of the Holy Spirit, 400 East Westminster Road, Lake Forest, with interment at Lake Forest Cemetery. For more information, contact Wenban Funeral Home at www.wenbanfh.com or (847) 234-0022.