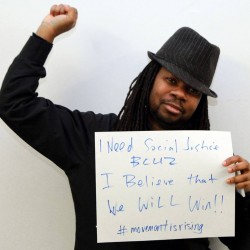 Imani Keith Henry, diversity trainer and organizational development consultant, will deliver a lecture on social justice at 5 p.m. Thursday, April 2, in Levitt Hall, Old Main. The event is free and open to the public.
For over 20 years, Henry has worked as a social service professional and community organizer in the cities of New York and Boston. In 2013, Henry founded The Equality for Flatbush Project, which does grassroots anti-police repression, affordable housing and anti-gentrification organizing in Brooklyn, New York.
His fiction and non-fiction writing has appeared in several publications including the books, Does Your Mama Know, Voices Rising: Celebrating 20 years of Black LGBT Writing, and Marxism, Reparations and the Black Freedom Struggle. Henry is also a journalist, known for progressive coverage of various domestic and international issues.
Henry also leads OD for the People, an organizational development practice that goes beyond providing diversity trainings, facilitating the launch of new projects or leading interventions to raise your productivity.
This lecture is sponsored by the Hawley Lectureship Foundation, Honors Program, and Honors Student Council with support from the Engaged Citizen Experience.