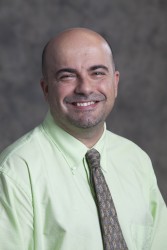 Dr. James Sacco, assistant professor of pharmaceutical sciences, was elected councilor for the Central States Regional Chapter of the Society of Toxicology.
Sacco graduated from pharmacy school at the University of Malta. He then received his doctorate in pharmaceutical sciences at the college of pharmacy at the University of Florida. He teaches courses in pharmacokinetics and toxicology for the Drake University College of Pharmacy and Health Sciences. Sacco's current areas of research focus on the genetic determinants of the risk of canine bladder cancer and the effects genetic polymorphisms in the monoamine oxidase A gene on aggression in dogs.
The Society of Toxicology is a professional organization of scientists from academic institutions, government, and industry representing toxicologists. The Society is committed to create a safer and healthier world by advancing the science and increasing the impact of toxicology.
As councilor, Sacco will help organize the chapter's annual meeting, which attracts toxicologists from academia, government, and industry, as well as students and guest speakers. The next annual meeting will be held October 16-17 in Kansas City.