Combined journalism capstone
For the first time, senior broadcast news, radio-tv producing and magazine majors are all working together in the same capstone. Their project is Urban Plains, a website featuring rich, immersive multimedia storytelling. Collaboration among the different majors is essential and will pay dividends for these students in their careers.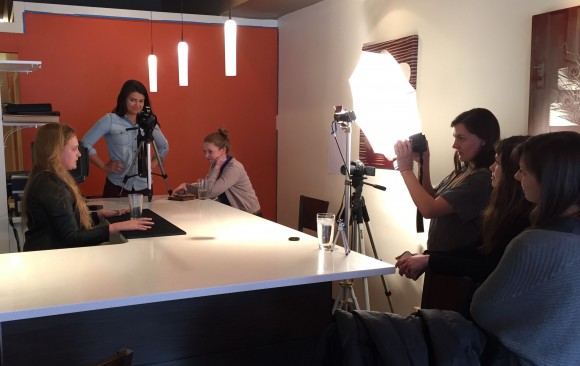 Student update
Courtney Fishman, a magazine and public relations double major, landed a summer internship through the American Society of Magazine Editors. ASME internships are highly competitive nationally; only 10 percent of applicants are accepted. Fishman will intern with a top magazine in either New York or Washington, D.C. She'll learn her placement in April.
Fulbright student applications open this week
Attentional all seniors and seniors-to-be: The Fulbright Scholarship program is sponsored by the U.S. State Department and allows college graduates to study, conduct research or teach English abroad for a year. (At least six SJMC students have won Fulbrights to study and work abroad in the past few years.)
Eat pizza and learn more about prestigious post-graduate awards at a meeting on April 9, 5:30-7:30 p.m. in the Medbury Honor Lounge. For more information, contact professors Eleanor Zeff (eleanor.zeff@drake.edu) or Karen Leroux (karen.leroux@drake.edu).
Sign up for JTerm 2016 in Santiago, Chile
The course, JMC 199 with CRN 1784, will travel between Jan. 6 and Jan. 20, 2016, which is peak summer season below the equator. The course registration gives priority to SJMC and CBPA students.  
With a full course of 20 students, we anticipate the price to be under $5,000, which includes round-trip airfare and hotel accommodations, along with other amenities. Professors Dorothy Pisarski and John Garza are team-teaching.
Scholarships available for study abroad (deadline: April 15)
Global Learning Scholarships are available for students planning to study abroad, participate in experiential learning, or participate in global service-learning.
These scholarships are designed to enable students to reach their full potential as responsible global citizens. Scholarship descriptions are available here. Students can apply online until April 15.