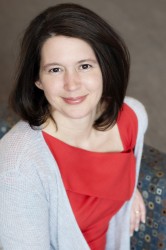 Renee Cramer, associate professor of law, politics, and society, has received a $76,244 grant from the National Science Foundation to study the impact of regulation, activism, and awareness on out-of-hospital midwifery care in the United States.
The facilitation of at-home births in the United States is guided by a diverse patchwork of state laws and regulations. A midwives' ability to legally attend home birth depends entirely upon the jurisdiction within which he or she practices.
Cramer will hire three undergraduate research assistants—each of whom will work five hours a week, 30 weeks a year, for three years—to help map the regulatory environments in each type of environment. Through interviews and primary research, the team will study the impact of regulations on access to at-home midwifery, efforts to change the regulatory environment, and initiatives to promote and advocate for home birth.
About 2-3 percent of parents in the United States practice home birth, but the experience of those parents varies state by state. In Alaska, for example, parents are allowed to hire nurse midwives or state-licensed direct-entry midwives for home births. In states like South Dakota it is illegal for midwives to practice out-of-hospital births; in Iowa, the practice is unregulated—not illegal, but not specifically legal either.
"There are generally a pretty healthy number of midwives practicing home births in the state of Iowa," Cramer said. "But it might be harder for a parent who doesn't live in Des Moines, Iowa City, or Decorah to find a certified nurse midwife—and if you're looking for someone who's not a nurse midwife, you may need to know somebody who knows one."
The three-year NSF grant will fund travel, student research, and other expenses as Cramer and her team interviews midwives and home birth advocates from a variety of jurisdictions to discuss what kinds of work they engage in, how their work impacts the midwife practice, and how it impacts the choices of parents who are considering whether to have a home birth.
The research and supporting documentation will be digitized and maintained in an archive to be hosted by Cowles Library.
Cramer earned a Ph.D in politics from New York University in 2001 and joined the Drake faculty in 2006. She has been engaged since 2004 in ethnographic and participant-observation field work with home birth midwives, advocates for midwifery, and families who practice non-normative parenting (including home birth). An article on her fieldwork methodology was published in 2009 by International Journal of Qualitative Research, and she is at work on a book related to midwifery regulation and activism. Her upcoming book, "Pregnant with the Stars: Watching and Wanting the Pregnant Celebrity Body," will be available in fall 2015 from Stanford University Press.
Her first book, "Cash, Color, and Colonialism," was published in 2005 by the University of Oklahoma Press and examines the politicization of federal tribal recognition.