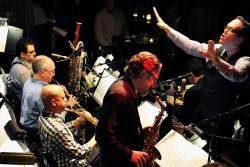 One of New York's best new 21-piece big bands will perform at Drake University for the biennial Edwin Earle Ferguson Event. Conductor Ryan Truesdell will present the Gil Evans Project at 7:30 p.m. Sunday, March 29, in Sheslow Auditorium, 2507 University Ave. The event is free and open to the public.
Truesdell created The Gil Evans Project out of a desire to restore Gil Evans' music from original manuscripts. Gil Evans was a Toronto-born composer who collaborated with Miles Davis on albums such as "Birth of the Cool," "Sketches of Spain," and "Porgy & Bess."
For decades the only way to perform Evans' music was through transcriptions, which were often inaccurate and produced misrepresentations of Evans' music. After years of research and preparation, Truesdell is able to perform Evans' work in its purest form. Through his research, Truesdell was also able to discover over fifty new, never-before-heard Evans compositions dating back to the 1940s through the 1980s. His album, "Centennial: Newly Discovered Works of Gil Evans" features ten of those songs. Evans music is special in his use of harmony, very specific instrumentation, his highly unique approach to orchestration, and a very detailed rhythmic and notational structure.
Truesdell's big band is compromised of some of New York City's best jazz and classical musicians. They have received rave reviews for their interpretations of Evans' work. Voted #1 Rising Star Big Band by the Downbeat Critics Poll, The New York Times described Truesdell's "Centennial: Newly Discovered Works of Gil Evans" as, "The year's most illuminating act of jazz repertory…The playing is impeccable, as is the ensemble blend, underscoring both the composer's genius and the interpreter's clear vision."
Alumnus Edwin Earle Ferguson, ED'31, LW'34, was a prolific pianist and composer, whose works have been performed at Drake. In 1992, Ferguson established an endowment for Drake's Department of Music, whereby distinguished artists would be invited to campus to perform recitals and give master classes for Drake students every other year.