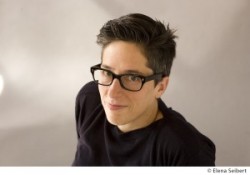 A groundbreaking comics artist known for work that explores sensitive social issues, including through one of the earliest representations of lesbians in popular culture, will deliver a free public lecture at Drake University on April 6.
Alison Bechdel, recipient of a 2014 MacArthur Foundation "genius" grant, is scheduled to speak at 7 p.m. Monday, April 6, in Sussman Theater, Olmsted Center, 2875 University Ave.
Bechdel's work tackles socially sensitive issues—suicide, misogyny, mental health, LGBTQ life and rights, and more—through a popular, accessible medium. Her long-running comic "Dykes to Watch Out For" ran from 1983 to 2008 and was one of the earliest ongoing representations of lesbians in popular culture.
Time magazine named Bechdel's graphic memoir Fun Home: A Family Tragicomic the Best Book of 2006, describing its investigation of Bechdel's closeted bisexual father's suicide as "a masterpiece about two people who live in the same house but different worlds, and their mysterious debts to each other." The work has been taught in the curriculum for several courses at Drake.
"Our students are invariably affected by reading Bechdel—not just by learning the story of her life, but by thinking alongside her mind as she works with such precision and complexity," said Amy Letter, assistant professor of English. "They will never forget this opportunity to hear her speak, ask her questions, and meet her in person."
Bechdel is also widely known for creating the Bechdel Test, which illustrates gender bias in popular culture by asking whether a work of fiction features at least two women who talk to each other about something other than a man.
Only two of the eight films nominated for Best Picture at the Oscars this year passed the test, according to lifestyle blog Bustle. Popular films including The Social Network, Alien, Lord of the Rings, Harry Potter and the Deathly Hallows: Part II, and Avatar also fail the test, according to an article by Film School Rejects.
Bechdel's talk is presented as part of the 2015-2016 Susan Glaspell Writers and Critics Series, sponsored by the Drake English Department and made possible by a grant from the Drake University Center for the Humanities.