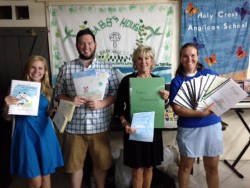 Since 2006, Dr. Sally Beisser has been taking children's books to an impoverished elementary school in Belize on San Pedro Island, where the children in the San Mateo village have no electricity, running water, or sanitation. The school where these children attend is built on a swamp and is supported by volunteer efforts. Beisser has coordinated the effort of providing Holy Cross Primary School with over 2000 books. Over the last five years, Drake students, supported by Dr. Shelley Fairbairn, have provided educational opportunities to this school over spring break and J-term trips.
In J-term 2014, the teachers at Holy Cross asked for book with topics of interest for their students. For example, the 5 and 6 year-olds wanted non-fiction books on families, healthy foods, the solar system, and transportation. The 7 to 9 year-olds wanted books on animals and the human body. The 9 to 11 year-olds hoped for books on non-flowering plants and sea creatures. Beisser took this list to a group of local USA National Honor Society students who then worked with Preschool to grade 8 students in Ames, IA to write, illustrate, and bind the books especially for these Belize students. The USA students researched the topics from nonfiction and periodical sources, added stories from their own experiences, incorporated the Iowa Core Essential Writing Skills, and prepared durable, laminated books for an authentic audience in an tropical environment that must withstand hot, humid, windy weather.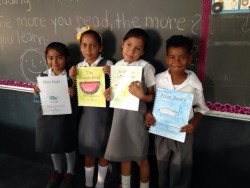 The first phase of this project took a year from start to finish. This project was a great success and in J-Term 2015, the Drake students delivered the completed books to the Holy Cross School. The Iowa students learned about the Belize students, their culture and their needs, while the students in Belize learned new concepts and discovered that there were kids in another country who cared about them.
The project has not ended. The children need more books that are specifically tailored for their interest level and they have been inspired to write their own stories and create books of their own. We hope this literacy project continues well into the future.