SPJ finalists
Drake University journalists are finalists in four categories in the Society of Professional Journalists Region 7 Mark of Excellence Awards. The regional winners will be announced in Omaha at the Region 7 Spring Conference March 27-28. Those winners move on to the national competition.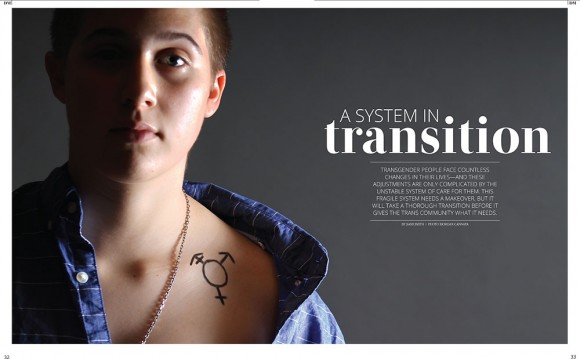 Drake's finalists include:
Best Digital-Only Student Publication: Think
Best Student Magazine: Drake Magazine
Best Affiliated Website: drakemagazine.com
Photo Illustration: Cole Norum for Trafficking Trap, Drake Magazine fall 2014
Photo Illustration: Morgan Cannata for System in Transition, Drake Magazine spring 2014 (above)
SPJ's Region 7 includes universities in Iowa, Kansas, Missouri and Nebraska.
Emmy nomination
Congratulations to senior Rachel Collins. Her JMC 114 public service announcement, "It's On Us," has been nominated for an Upper Midwest College Emmy award.
Get involved
Applications are now being taken for the 2015-16 executive positions for Drake's student media. The jobs are Drake Broadcasting System (DBS) President, and editor-in-chief for the following publications: Drake Magazine, Times-Delphic, The Annual, Periphery and DUIN.
Send resume and cover letter to Board of Student Communications co-chair Angela Rogers, angela.rogers@drake.edu, by Friday, March 13, at 11:59 p.m.
Registration reminders
It is time be meet with your adviser. Make sure to check your record before you register – If you are on hold you will not be allowed to register until the hold code is removed. Your registration time looks at the credit hours you have completed, earned or transferred in; doesn't include what you are currently taking. Check for restrictions and pre-requests before your registration time. Email Carla McCrea if you have registration questions carla.mccrea@drake.edu Have a stress free registration by planning ahead.
Study abroad
Sophomore Shaeffer Smith, a public relations and broadcast news major, is studying in Salamanca, Spain, one of 23 SJMC students overseas this semester. She has celebrated Carnival, watched the running of the bulls (thankfully, she didn't participate), cheered at an Atlético Madrid game, and had her classes disrupted by a student strike. She's also busy planning trips to Rome, Portugal, Dublin, Morocco, Germany, France, Belgium and Switzerland. Read her blog.
Meet NPR legal reporter Nina Totenberg
U.S. Supreme Court reporter Nina Totenberg, this spring's Bucksbaum lecturer, will meet with SJMC students on Thursday, March 12, at 3:30 p.m. In the Cowles Reading Room. She will deliver her lecture at 7 p.m. In the Knapp Center.