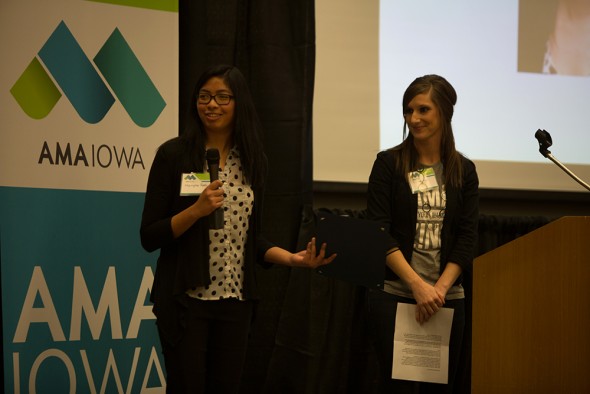 Maryna Rath, a senior marketing major at Drake University, has been awarded the selective Iowa American Marketing Association Scholarship. The $1,500 scholarship is presented annually in partnership with Casey's General Store to a collegiate member of the Iowa AMA who exudes outstanding leadership, high academic achievement, and active participation in the marketing profession.
"This year the scholarship selection process was very competitive. Rath stood out with her amazing credentials of being in AMA since her freshman year and now holding the vice president position within the Drake chapter," said Angela Ten Clay, president of the Iowa AMA chapter. "The scholarship is an investment into her future and we hope that it can also act as a foot-in-the-door to future employers as she looks for a job in the marketing field."
Rath, from Schaumburg, Ill., received the award at the AMA Experience luncheon in Des Moines last month. As current vice president of Drake's AMA chapter and past president of Drake University Enactus, Rath stays very involved. She looks forward to working for a company in the food, beverage, or hospitality industry as a digital marketing specialist where she can help with brand engagement, customer service, and promotions through website management and social media platforms.
"Iowa AMA has been a great experience," Rath said. "I have made so many professional connections, and to know that AMA cares about my future shows their genuine interest in student development. It was an honor to receive this scholarship."
Recipients of the AMA student scholarship must be enrolled in an accredited institution of study, as a junior or senior during the academic year in which the award is presented.
Sadie Howar, director of collegiate membership & relations of Iowa AMA said, "We are proud to honor Maryna with this award in recognition of her hard work in the academic world and all she has invested into the Drake AMA Chapter, as well as AMA Iowa."