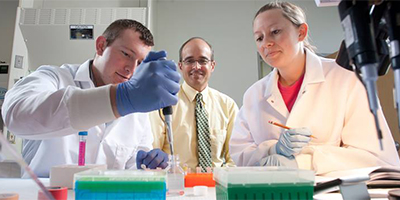 The Accreditation Council for Pharmacy Education has extended its accreditation of Drake University's Doctor of Pharmacy program for eight years.
The decision by the ACPE, the national agency for the accreditation of doctor of pharmacy programs, to extend its accreditation for the maximum allowable period of time reflects the high quality of Drake's pharmacy program.
In a written report, the ACPE's evaluation team heaped praise on students, faculty, and administrators within Drake's College of Pharmacy and Health Sciences.
"Students are an asset to the program," the team wrote. "They are articulate, passionate about the University and College, and involved at the community and University levels… There is significant student spirit and they are supportive of each other."
Faculty are approachable, dedicated, and use a number of active learning techniques to facilitate success in the classroom, the team noted, adding that administrators are supportive of one another with strong leadership from Dean Wendy Duncan, who joined the college in July 2013.
The team also noted a number of improvements to the college's physical spaces, including the addition of the Cline Atrium, which provides student collaboration space and houses a number of faculty offices.
"Thank you to all of the students, staff, faculty, and preceptors who worked on our self-study for the past few years, and met with the site visit team this past September," Duncan said. "Thank you as well to all of our students, alumni, faculty, staff, preceptors, and supporters for helping us to ensure that our Doctor of Pharmacy program is exemplary."
Drake's pharmacy program has been accredited by the ACPE since 1938 and the renewal continues the program's accreditation through June 2023.