Division I student-athletes enjoy a variety of memorable and enriching experiences, but studying abroad isn't typically one of them. Rigorous practice and competition schedules preclude many athletes from enjoying a trip abroad during their college years.
In fact, the last time Drake Men's Soccer Head Coach Sean Holmes remembers one of his student-athletes going abroad was more than a decade ago. But that changed this year when 42 members of the men's and women's soccer teams traveled to Guadalajara, Mexico, for a three-week January Term course on Mexico and the Global Economy.
"It truly was an experience of a lifetime; one I will never forget," Gabe Edel, a first-year student and forward on the soccer team, wrote on the official travel blog. "Just thinking about it makes me want to go back and see what else the city of Guadalajara has to offer."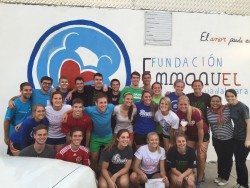 The students—led by Drake International Business faculty Matthew Mitchell and Jeff Kappen, and head coaches Holmes and Lindsey Horner—met with government leaders, economic development officials, and professors, to discuss issues including governmental practices, social and economic inequality, crime, and other issues that affect the Mexican economy, politics, and culture.
They visited a home for orphaned children, an immigration center, and an organization that houses children whose parents are in prison. Ali Smith, a first-year student, found herself around a table with a few of the orphan children. The Drake students helped the kids with their homework, and the children showed Ali and her friends pictures they had drawn. One of the students drew Ali a picture of a bulldog. It was a rewarding experience—and when it came time to leave, one of the kids asked them if they would return.
"While this question broke my heart, it also showed me how much I can impact someone even with a day's work," Smith writes. "The hugs we received upon our departure only reinforced this idea in my heart."
Fun was part of the curriculum, too: Drake's teams hit the field for match-ups against the college teams at Monterrey Tech in Guadalajara, and took in a professional match featuring the Club Deportivo Guadalajara, commonly known as Chivas. The atmosphere at the soccer stadium (and surrounding neighborhood) impressed many of the travelers.
"I've never experienced a soccer atmosphere in my life as intense as Chivas' game versus Puma," wrote Austin Reutzel, a junior who plays defense. "I think the Chivas game reminded us players why we love the game so much."
Fans of Drake Athletics may remember another memorable trip abroad for the Bulldogs. In 2011, the football team traveled to Tanzania, where they played the first-ever official collegiate game of American football on African soil. The students also climbed Mount Kilimanjaro and performed service projects with their football rivals—from Tec de Monterrey, the same school the Bulldogs soccer teams visited this year.
"The Drake Soccer trip to Guadalajara exemplifies the co-curricular approach to Division I athletics that we have developed at Drake University," said Drake director of athletics Sandy Hatfield Clubb. "I am proud of our faculty, coaches and particularly our student-athletes for how they have embraced this extraordinary experience."
Hatfield-Clubb said this opportunity allows student-athletes to use the platform of soccer to serve as ambassadors, learn first-hand about international business through another culture, and develop as global leaders.