Professor Chris Snider, who has been teaching a social media strategy class at Drake for four years, will be leading two social media-related learning events in April. Snider has helped businesses ranging from The Des Moines Register to a local heating and cooling company build their social media strategy (Sign-up details are at the bottom of the page).
The events are sponsored by the E.T. Meredith Center for Magazine Studies at Drake University.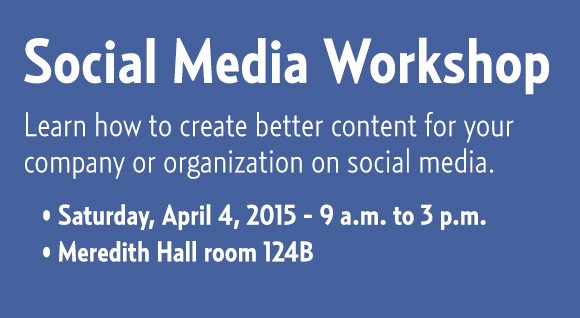 Social Media Strategy Workshop
Saturday, April 4, 2015 – 9 a.m. to 3 p.m., Meredith Hall room 124B
Cost: $50 if you sign up in advance. $75 at the door. Free for Drake students/staff who sign up in advance.
This hands-on workshop will help you understand how businesses and organizations are succeeding in the ever-more-complicated world of social media in 2015. Participants will have the opportunity to create social media content for their business/organization during the class.
Topics covered will include:
What content to share on social media – and when to share
What Chris has learned doing social media for a Des Moines heating and cooling company and for the Drake SJMC
How to use analytics and audits to improve your results
Tools to help you be more efficient
Frameworks for building a social media strategy
The class will focus on Twitter and Facebook, but most topics will translate to all social media channels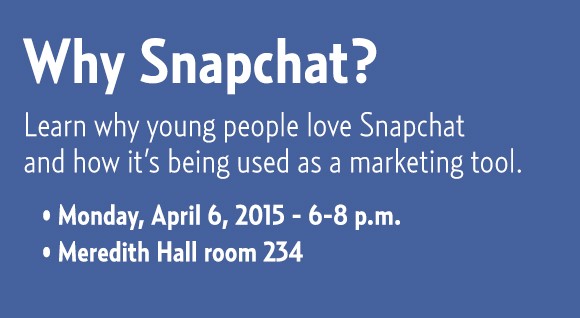 Presentation and discussion: Why Snapchat is the breakout marketing tool of 2015
Monday, April 6, 2015 – 6-8 p.m., Meredith Hall room 234
Cost: Free, but please RSVP in advance as there is limited space
Professor Chris Snider and two students will lead this presentation about how students and businesses are using Snapchat. Topics will include.
How it works
How people are using it
Why it appeals to young users
How businesses are using it (and what results they are seeing)
Why it's a great marketing tool
Tips and tricks
How the Drake School of Journalism and Mass Communication (drakejmc) is using Shapchat
How to sign up
Contact Shari Tenney in the Drake School of Journalism and Mass Communication office at shari.tenney@drake.edu or 515-271-3194.
Space is limited for the Social Media Strategy workshop, so please sign up in advance.
Cash or check (made out to Drake School of Journalism) accepted.
Questions? Contact Chris Snider at chris.snider@drake.edu.