Students attend Ad Summit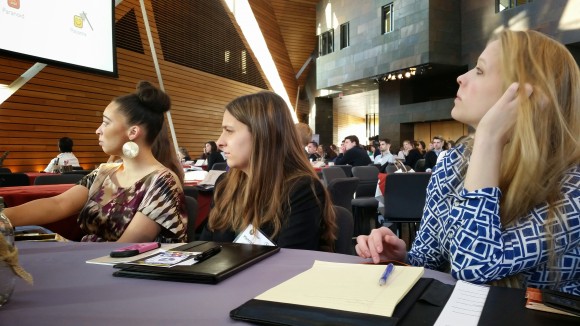 For the fifth consecutive year, Drake Ad Majors attended the Student Advertising Summit (SAS) in Minneapolis. Close to 300 students from 7 states attended the all-day event that included two keynote speakers, your choice of four out of twelve workshops, three round table networking sessions, recruiting tables, portfolio reviews and agency tours.
Current students had the special opportunity to meet four ad alumni who attended either as presenters or as representatives of the ad agencies they work for. Michael Santee offered a workshop in programmatic media, while Sumit Sen, Jon McDonald and Kimberly Shannon were agency representatives.
NPR star coming to Drake
Nina Totenberg, longtime legal affairs reporter who covers the U.S. Supreme Court for National Public Radio, will be the Bucksbaum lecturer on Thursday, March 12, at 7 p.m. In the Knapp Center. SJMC students are invited to meet with Totenberg at 3:30 p.m. in the Cowles Reading Room.
Welcome two new SJMC family members
Two new professors will join the SJMC faculty next fall:
Matthew Thornton, assistant professor of convergence media and chair of the Division of Media and Communications at Louisiana College, will join the public relations faculty. Dr. Thornton received his Ph.D. in media and public affairs from Louisiana State University, his master's degree from the University of Missouri and his BS in business administration from University of Arkansas Fayetteville. His research focus is political communication.
Grace Provenzano, associate professor at San Francisco State, will join the SJMC as a digital media production teacher. She received her master's from Arizona State and her BS from Michigan State, and she also studied at the University of Kent in England and University of Vienna in Austria. Provenzano has created documentaries and worked as a television reporter and producer in Europe, California, Phoenix, Atlanta and New Hampshire.
SJMC Road Trips update
Even though the Kansas City event has been postponed, the weather won't stop us from visiting Chicago and Minneapolis.
Chicago: March 27-28
Current Drake students will be joining us for a weekend of networking and exploring the sites! Friday night's alumni event will be at Jake Melnick's Corner Tap from 5:30-7:30pm. Prospective students are invited to the Field Museum on Saturday morning from 9:30-11:30am.
Minneapolis: April 19
Both alumni and prospective students are invited to join us for an afternoon of appetizers and mingling. Location TBD.
Also, stay tuned for further details on the rescheduling of the Kansas City Tour and our wrap-up event in Des Moines.
Student updates
Senior Janet Eckles, a radio-tv producing major, is headed to the Kurdish region of Iraq after she graduates in May.
Eckles will intern this summer with Preemptive Love Coalition, a nonprofit that trains Iraqi doctors and nurses to perform lifesaving surgery on Iraqi children who have congential heart defects. She'll be based in Sulaymaniyah in northeast Iraq, part of the Kurdish region.
As an intern, she'll produce video stories that document the families served by the Preemptive Love Coalition. The stories will be used to thank donors and support the coalition's fund-raising.
Eckles is soliciting donations to support her expenses and so far has raised more than $2,700 of her $4,500 goal through Pure Charity.
She is currently interning with Iowa Public Television and is also a member of Drake's Middle East Peace and Prosperity Alliance.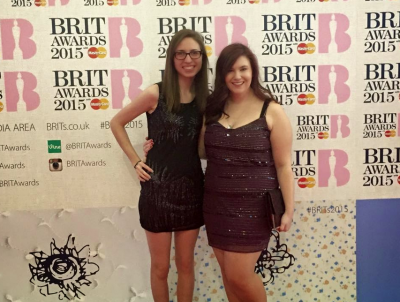 Shelbie Malinski, a radio-TV production major, is studying in London, one of 23 SJMC students studying abroad this semester. Read about her experiences, which include soaking up London's theater scene, attending the Brit awards, stumbling upon the BBC's headquarters, and traveling to Scotland, Cardiff and Windsor Castle.