The Drake University National Alumni Association Board of Directors will recognize eight alumni with an award reception during the week of Drake Relays on Thursday, April 23. The 2015 Alumni Award recipients represent seven graduating classes and four colleges.
"These individuals are shining examples of the power of a Drake degree," says Blake Campbell, director of alumni relations. "Their loyalty, service, and achievements are a symbol to our faculty, students and graduates of our hope that alumni will stay involved in a lifelong relationship with Drake University."
Alumni Achievement Award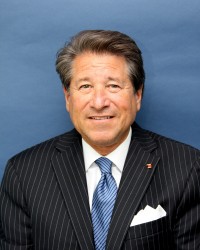 Michael Vasquez, BN'80, is co-founder and CEO of St. Gregory's Centers Inc., a Des Moines-based inpatient facility dealing with substance abuse. Motivated by the loss of a family friend to drug use, Vasquez was driven to increase the 15 percent national success rate of traditional drug and alcohol treatment centers. Vasquez, along with his wife Rose Marie, created the St. Gregory Recovery Program, a new model of treatment that since 2006 has been called the "most advanced substance abuse program in America."
Since 1990, Mr. Vasquez has been the founder of industry changing health care companies in the United States. He has received many accolades, including being named an American Success Story by Entrepreneur Magazine, a Blue Chip Recipient by the U.S. Chamber of Commerce, and Entrepreneur of the Year by Ernst & Young.
Alumni Loyalty Award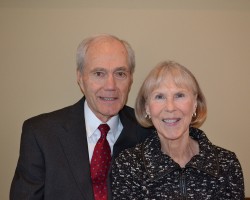 Brent Slay, ED'70, and Diane Newburg Slay, ED'70, partnered with Drake to create the Slay Fund for Social Justice, the first formal organization on campus dedicated to social justice issues. The Slays' generosity has provided students with experiential learning opportunities and connected Drake with Des Moines community non-profit agencies. The Slays were instrumental in bringing President Jimmy Carter and first lady Rosalynn Carter to Drake's campus for the Fall 2012 Bucksbaum Lecture and have participated in many global service projects with the Carter Center.
During his time at Drake, Brent was a student athlete in track and field and has since been recognized by Drake Athletics as a Double D Award winner. After graduating, he worked for Terryberry Company, a successful manufacturer of corporate recognition awards. He started with the company in 1971 and retired in 2004.
 Young Alumni Achievement Award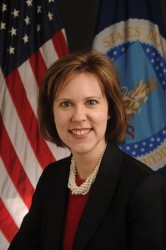 Darci Vetter, AS'96, is Ambassador and Chief Negotiator for the United States Trade Representative (USTR). In this role she is responsible for bilateral and multilateral negotiations and policy coordination regarding agricultural trade. She has served as Deputy Under Secretary of the United States Department of Agriculture, as International Trade Advisor on the Democratic Staff of the U.S. Senate Committee on Finance, and in several other roles with the USTR.
Vetter was Student Body President during her time at Drake, and she is a former member of the Donald V. Adams Leadership Institute Steering Committee. She has been a lead donor to the Institute since 2006. Darci has returned to campus on many occasions to present to students and faculty on her experiences in U.S. trade negotiations.
 Young Alumni Loyalty Award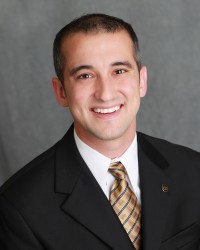 Anthony Pudlo, PH'07, currently serves as vice president of professional affairs at the Iowa Pharmacy Association. Anthony has received many awards and recognitions, including being named Kerr Drug's Clinical Coordinator of the Year in 2010-11. Kerr Drug is considered to be one of the leading professional pharmacies in the country, and in that role Anthony was the regional clinical manager for the Asheville Project, an innovative system of employee health care that provided intensive education and consultation to employees with chronic health problems such as diabetes, asthma, hypertension, and high cholesterol.
Anthony is recognized for myriad contributions to Drake's College of Pharmacy and Health Sciences. He assists with teaching courses, interviews applicants to the pharmacy program, and lends a hand with student outreach activities. Anthony also provides valuable insight as a member of the Drake University College of Pharmacy National Advisory Council. He served as an Asheville Buncombe Community Christian Ministry Medical Volunteer in Asheville, North Carolina from 2008-2011.
Community Service Award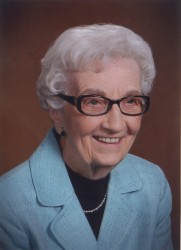 The honorable Ruth Klotz, BN'54, LW'55, served as district associate probate judge of District 5C of Iowa from 1978 to 2012. She was the only judge in the state to hold this title and at the time of her retirement, Klotz was Iowa's oldest judge.
Throughout her career, Judge Klotz continued to give back to the community, first and foremost through her continual service to the legal community. Klotz also served as a role model for up and coming young, female lawyers.
Klotz has also continued to give back to Drake University. She has been a member of the Law School Board of Counselors and a member of the Ray Society. She has provided law students the opportunity to clerk with her, has been a frequent speaker in law school classes and events, and has supported a number of projects and scholarships at the University and Drake Law School.
Distinguished Alumni Award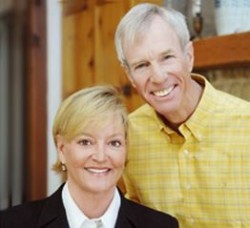 Ric Scripps, ED'70, and Debbie Engstrom Scripps, ED'72, Ric started his career as a teacher in Minnesota in the 1970's then moved on to work for Darr Equipment, where he rose to the rank of vice president of administration. Darr was one of the nation's largest providers of forklift and construction equipment, having for many years held exclusive rights to sell, rent, and service the complete line of Caterpillar engines, generators and switchgears.
Debbie started her career as a teacher of the first grade and continued to become a reading specialist and middle school math and science teacher. Debbie joined Drake's Board of Trustees in 2004.
Together, Debbie and Ric support Drake University in many ways, most notably with generous support for the proposed new School of Education building on campus. In addition, they provided philanthropic leadership to Helmick Commons and the new Shivers Basketball Practice Facility. They both are very active in community service. Debbie was a founding member of Texas Community Partners that provides support and supplies for the Child Protective Services office of Dallas and served as chair in 1998. Debbie has also served on the Board of Directors and was President of the Women's Auxiliary for the Children's Medical Center in Dallas, and Ric was appointed a Children's Medical Center trustee as of 2001. He served from 2006-2012 on the board of Dallas Children's Advocacy Center. He has been a member of the Salesmanship Club of Dallas since 1993, an organization of 600 men that is committed to transforming the lives of children and hosts the AT&T Byron Nelson Championship.