Studying Abroad
Twenty-three SJMC students are studying abroad this semester, in New Zealand, Australia, Italy, Austria, London, Peru, Russia, Costa Rica, Spain, Ireland. Mari Moroz (below) is in Rome, where her walk to school takes her past ancient Roman ruins. Read her blog.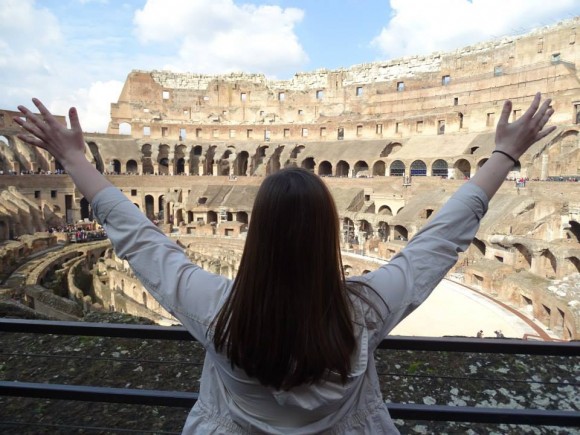 Good news
Austin Cannon, a news-Internet junior, landed a highly competitive internship through the Dow Jones Newspaper Fund program. He'll intern on the sports desk of the Hartford Courant this summer.
Making headlines
Retired SJMC professor Gary Wade was featured in a front-page Des Moines Register article. Wade has been the announcer for Iowa State men's basketball games for 36 years.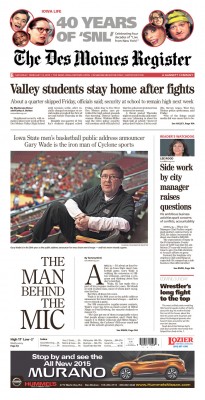 Get Social
Are you following OnPaintedStreet on Instagram? Each week, a different Drake student runs the account. Contributors have included SJMC students Ore Arogundade (BNEW), Adam Graves (PUBR), Katie Ramsey (PUBR) and Cameron Johnson (RTVP).
Vice President visit
During Vice President Joe Biden's visit to Drake on February 12, Public Relations major Thalia Anguiano, was able to ask a question of the VP, then she was interviewed by KCCI.
Visiting Professionals
Journalist and host of "The Open Mind" Alexander Heffner will be on campus Monday, Feb. 23. He will meet with students in class during the day and give a lecture that night.
Heffner's lecture, "The Future of Civil Discourse: Millennials, Media and the2016 campaign" will be in the Cowles Library reading room at 7 p.m.
For more information contact Lori Blachford, lori.blachford@drake.edu.
Get going
Take an overnight bus trip to Chicago with Drake SJMC, March 27-28. The trip will include professional tours, networking with alumni and meeting with perspective Drake students. The trip costs $125 and includes meals, hotel and transportation.
A tour of the United Center and Q&A with communications staff for the Chicago Bulls
A visit to 88 Brand Partners OR NPR's WBEZ
Networking with alumni
Meeting prospective Drake students
Tickets to Chicago's Field Museum
Space is limited— sign up with Professor Bruhn (kelly.bruhn@drake.edu) by Friday, February 27. $125 includes transportation, hotel, and meals. If you have any questions you can contact Taylor Larson (taylor.larson@drake.edu) as well!