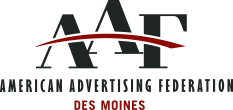 Two pairs of Drake University Advertising students were awarded Silver prizes at the American Advertising Awards show Saturday night in downtown Des Moines.
Melanie Buck and April Tan won the Silver award in the Digital Advertising category for an iPad ad they developed for the Masters of Communication Leadership program.
Hannah Erickson and Amanda Seiberlich were awarded the Silver in the Direct Marketing category for their product book for Pella Windows.
Additionally, two SJMC Advertising alumni were finalists in categories of service to the profession. Jason Boucher was a finalist in the Silver Medalist category, recognizing those ad professionals who have served fifteen or more years within the American Advertising Federation of Des Moines. Jason currently works at ZLR Ignition. Lydia Metzger, from Two Rivers Marketing, was a finalist for the Ad Pro of the Year, a category recognizing service to the professional association of less than fifteen years.
Finally, several current Advertising students were recognized for their service to set up the awards show venue and to assist during the awards show itself. Among the volunteers were Hope Waggoner, Sadie Hedge, Katherine Rousonelos, Korrie Merley and Julianna Baalson. Alumni Caleb Bailey, from Strategic America, served on the show committee as well.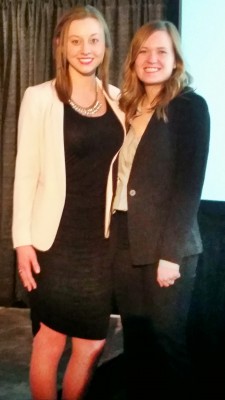 Pictured are Sadie Hedge and Julianna Baalson, who assisted the Master of Ceremonies in handing trophies to the winners.