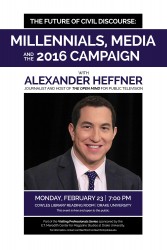 Journalist Alexander Heffner, the host of PBS's The Open Mind, will visit Drake University next week to deliver a public lecture titled The Future of Civil Discourse: Millennials, Media, and the 2016 Campaign. Heffner's visit is part of the Visiting Professionals Series sponsored by the E.T. Meredith Center for Magazine Studies.
The lecture is Monday, February 23, at 7 p.m. in the Cowles Library Reading Room and is free and open to the public.
Heffner said he chose a civil discourse focus for his talk because, "In Iowa, there's an unprecedented opportunity for direct democratic engagement with young voters. It's never been more important from the outset of a presidential campaign to frame issues accurately and substantively."
In addition to his public address, Heffner will visit select journalism and politics courses at Drake on Monday and Tuesday. "I'm excited to interact with the community and together think about the future of public media, journalism and American politics," Heffner said.
Heffner has reported extensively on political engagement among young voters. He was a special correspondent for Need to Know on PBS, crisscrossing the country to chronicle the Millennial vote in 2012. His articles have been published in the Wall Street Journal, Washington Post, and other leading newspapers. He has also been interviewed about politics and education by CNN and the BBC.
About the Visiting Professionals Series: Sponsored by the E.T. Meredith Center for Magazine Studies in the School of Journalism and Mass Communication at Drake University, the Visiting Professional Series is an annual opportunity for journalism students and the Des Moines community to connect with journalism professionals.