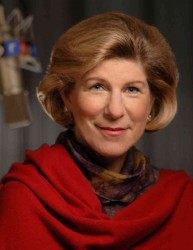 Nina Totenberg, legal affairs correspondent for National Public Radio, will deliver the 34th installment of the Martin Bucksbaum Distinguished Lecture Series at Drake University. "An Evening with Nina Totenberg" is scheduled for 7 p.m. Thursday, March 12, in the Drake University Knapp Center. The event is free and open to the public.
Totenberg is best known for 40 years of award-winning Supreme Court and legal affairs coverage for NPR's All Things Considered and Morning Edition. She is also a frequent contributor to major newspapers and periodicals including the New York Times Magazine, the Harvard Law Review, the Christian Science Monitor, Parade magazine and New York magazine.
"We're very excited to welcome Nina Totenberg to campus," said Kathleen Richardson, dean of the School of Journalism and Mass Communication. "It's a wonderful opportunity for our students and for members of the Des Moines community to hear the perspective of a longtime journalist who is respected for her intelligent, thoughtful, and insightful coverage of the Supreme Court."
Totenberg has won every major journalism award in broadcasting, and is the only radio journalist to have won the National Press Foundation award for Broadcaster of the Year. She has been honored eight times by the American Bar Association for continued excellence in legal reporting, and has received a number of honorary degrees. In 1992 and 1988, Esquire magazine named her one of the "Women We Love."
Before joining NPR in 1975, Totenberg served as Washington editor of New Times Magazine, and previous to that she was the legal affairs correspondent for the National Observer. Since joining the NPR staff she has become one of the closest and most knowledgeable journalists to report on the Supreme Court. Justice Ruth Bader Ginsburg officiated Totenberg's wedding in 2000, and Totenberg has admitted to owning several "Notorious RBG" T-shirts bearing Ginsburg's photograph and the humorous reference to the late rapper Biggie Smalls.
During her lecture, Totenberg is expected to discuss the relevance of the United States Supreme Court and its influence on the American public.
"Nina Totenberg's lecture will be an incredible opportunity to learn about one of the most important and powerful government institutions in our country," said Marsha Ternus, former chief justice of the Iowa Supreme Court and currently director of the Harkin Institute for Public Policy and Citizen Engagement at Drake University. "If her remarks resemble her reporting, as I'm sure they will, it will be a delightful and enlightening evening."
Since 1996, the Martin Bucksbaum Distinguished Lecture Series at Drake University has hosted free lectures by some of the world's most inspirational and knowledgeable figures in the fields of literature, music, film, environmentalism, athletics, history, politics, and journalism. It is the crown jewel in Drake University's commitment to serve as the place where central Iowa comes together to consider the vital issues of the day. Previous speakers have included pro basketball player Magic Johnson, former U.S. President and first lady Jimmy and Rosalynn Carter, astrophysicist Neil deGrasse Tyson, and the late poet Maya Angelou.