Kavilash Chawla, AS'98, is global practitioner-in-residence for Drake's College of Business and Public Administration. His career path hasn't taken him in the direction he'd planned while at Drake, but it's taken him around the world—and he wouldn't have it any other way, as he writes in the following essay:
"The Long Way Around," by Kavilash Chawla, written September 2014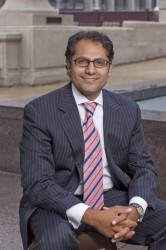 Even as a student at Drake, I tended to take the long way around. Instead of studying international business or international relations, I studied economics, history, and political science, essentially getting the same degree but in a more indirect route. My career after leaving Drake has taken a similarly circuitous path.
Like many Drake students, whether from my Class of 1998 or the Class of 2018, I wanted to not only graduate as a global citizen but live as one as well. This meant being professionally successful but also making a difference in serving those who are less fortunate, and playing a leading role in addressing global issues like poverty, sustainable development, and climate change. Instead of joining the U.N., a nongovernmental organization, or another civil society or development institution, I went into investment banking in London and then on to setting up my own advisory shop, supporting strategic and financial investors in the development and execution of their growth and business development strategies.
On paper, this seems like a very long way around—and a very far way off—to being the global citizen I envisioned when I graduated.
In practice, thankfully, the long way around actually pays off. Earlier this week in Doha I had a chance to sit down with a regional foundation to help them better strategize about how to develop and implement a blended return investment fund to address youth unemployment and enterprise development in Arab countries. Last week in Dubai, I spoke to 400 Islamic bankers who control almost $2 trillion in assets and discussed the potential opportunities to generate commercial rates of return through social impact investments in high growth sectors and frontier markets. In Kuwait next week, I will be meeting with the largest investment house and the regional development bank to discuss investment opportunities into Iowa's agriculture and ag-related sectors. The goal will be to address food security and supply chain issues in the Middle East, and job growth and foreign direct investment needs in Iowa. And when I finally get back home to the U.S. in early October, I get to meet with an angel investment group to hopefully close on an investment into a "social crowdfunding + ethical marketplace" platform we are building.
My point is, the future is a long way off, so the long way around can have its benefits. As you think about your life and plan your career, be deliberate and strategic in your decisions, but always be open to opportunity. As a Drake student and as a Drake alumnus, don't be afraid to give of yourself, your time, your intellect, your expertise, your knowledge, and your compassion. If you have an opportunity to contribute value to someone or something, do it. For me, it has opened doors and created opportunity to succeed professionally, personally, and in serving society in many more ways than I ever could have imagined.
Sometimes, it's good to take the long way around.
— "The Long Way Around" was originally published in the e-newsletter for Drake's International Business program. Learn more about Drake International Business, follow them on social media, and subscribe to their newsletter, all at www.drake.edu/internationalbusiness.