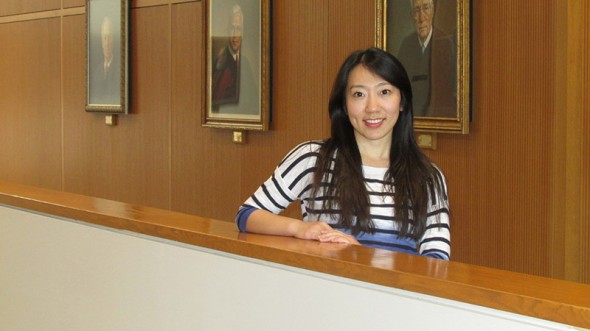 While summer can be a time for some college students to relax, Brooke Yang finished her clerkship in Des Moines on a Friday and was packed up and in Hong Kong by the next Monday to start a new internship.
Yang, a 2L at Drake University Law School, knew she wanted to add an international experience to her law school career, so when she came across an internship that called for a law student who spoke fluent English and Mandarin and would work out of the Hong Kong office, she jumped at the chance.
"I think it's important for students to take advantage of the opportunities," Yang said. "These things haven't fallen in my lap; I've reached out and had rewarding experiences as a result."
The chance paid off, as Yang landed the internship with the help of Professor Peter Yu, the Kern Family Chair in Intellectual Property Law and director of Drake's Intellectual Property Law Center.
Yang spent three weeks interning for Baker & McKenzie, which is one of the largest law firms in the world, with 77 offices and more than 4,200 lawyers representing 60 nationalities. Most of her work in Hong Kong was focused on intellectual property, specifically researching U.S. intellectual property case law to better support cases of "first impression"—those for which there is no binding legal precedent—in China.
Yang's internships in the U.S. and abroad could not have been more different. After completing a demanding summer clerkship in the Midwest, she found herself busier, and working even longer hours, at a large firm in the bustling city of Hong Kong. But the work she was doing was also very different. At her clerkship, her job was to provide a neutral analysis of a case to the judge, but in Hong Kong she was working for a firm where she had to build a case advocating for a client.
Yang feels lucky that she got to work on two very different aspects of the legal process in just one summer. She says she still uses what she learned during her time in Hong Kong every day and that her time in the city really changed her perspective.
"Before my internship in Hong Kong, I thought my job options in the United States were limited," said Yang. "But after working there I feel much more confident, both in my skills and job hunting."
After law school, Yang hopes to find a job in the U.S. where she can use both her Asian background and international experience. And she wants to help her fellow students recognize the learning opportunities that Drake Law presents.
"Students should not assume that because Drake is in the Midwest they are limited to options here," said Yang. "You can go global if you want to, you just have to make the effort."