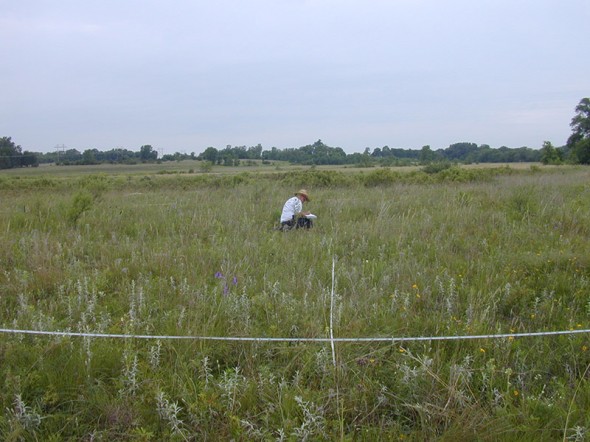 Before he sets foot in the marshy wetland, Tom Rosburg, professor of biology, knows what to expect. Beads of sweat drip down his face as he trudges through knee-high wetland muck, 100-degree heat, and oppressive humidity. Then the buzzing begins. Gnats and mosquitos race around his nose and ears, reveling in the sticky air. All the while, Rosburg struggles to extract a 40×40-centimeter sample of land—only the first step in a long summer of work.
This seemingly less-than-glamorous toil is actually part of a prestigious honor. The Iowa Natural Resource Conservation Service (NRCS) selected Rosburg and his team of Drake students to lead a soil health study dedicated to collecting samples from various types of Iowa land and native plant species.
"We do measurements of the soil, measurements of the plants, and we look for the patterns that connect them," says Rosburg. "We also gain information about the quality and productivity of our native soils and see how much they've changed."
The first portion of the grant–funded work took place in summer 2014 as Rosburg journeyed to 40 different Iowa prairies, wetlands, and forests to collect samples. When the second half of the project kicks off in summer 2015, Rosburg and his team plan to travel to at least 60 more locations.
But the work doesn't end in the field. In the depths of Olin Hall, inside a specialized laboratory, Rosburg's soil and plant samples are sorted by species, dried, weighed, and entered into a comprehensive database during a process called biomass processing. Such capabilities—as well as the expertise to conduct the research and processing—are two of the reasons Drake was chosen to partner with the NRCS on the study.
"We contacted Dr. Rosburg because he's at the top in terms of being an expert in botany in Iowa," said Marty Adkins, assistant state conservationist with the NRCS. "There's no one with more expertise than him, so we really benefit from his work and the resources Drake provides."
The NRCS has also been able to utilize some of the most important University resources: bright, talented students. While Drake PR students work as public affairs interns thanks to a separate NRCS grant, biology students become important partners in Rosburg's research. In the field, in the lab, and beyond, students are gaining experience with the scientific process, the necessity of careful and accurate measurement, and Iowa native plant species.
"Students should discover patterns themselves as they are working in the field and entering data," said Rosburg. "They're seeing for themselves the vegetation patterns between prairies and wetlands and forests. That's really how one best learns—by seeing and discovering those patterns oneself rather that just being told."
While students are gleaning benefits from their participation in the project in the short term, both Rosburg and the NRCS have long-term objectives for their research. Rosburg's collected data is being compiled by the NRCS into Ecological Site Description maps, which will be used as a tool for conservation and land planning across the state.
"Iowa's soil is what makes Iowa unique on the face of the planet," said Adkins. "If we don't protect and rebuild our soils, we're being irresponsible. Instead we want to learn through Tom's research how to have productive and sustainable landscapes."