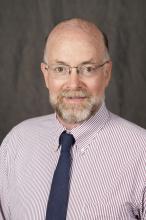 A longtime diplomat who has lived, worked, or traveled in 91 countries will give a free talk on U.S. foreign policy in the Middle East on November 12.
Drake University alumnus Ronald McMullen, visiting associate professor at the University of Iowa, will deliver "The Pivot Deferred: How Middle East Turmoil Undermines Asian Rebalancing in U.S. Foreign Policy" starting at 7 p.m. in Room 101, Meredith Hall, 2085 University Ave. The event is free and open to the public.
McMullen has quite the impressive resume, with over 30 years of diplomatic experience. Most recently he served as U.S. Ambassador to the State of Eritrea.
In Burma he worked closely with Nobel Peace laureate Aung San Suu Kyi and pro-democracy groups. While posted in Fiji he helped prevent civil conflict after an armed takeover of parliament. He was shot at during a riot in Sri Lanka and helped train mongooses to detect heroin. He survived a voodoo curse in the Dominican Republic and took Hillary Clinton on a tour of South Africa's Robben Island with Nelson Mandela.
Between foreign assignments, McMullen served for three years as visiting professor at the Military Academy at West Point, where he taught international relations and comparative politics.  He was diplomat-in-residence at the University of Texas at Austin 2010-2012.  He has authored many scholarly works and is a three-time recipient of the State Department's Superior Honor Award.
McMullen earned his bachelor of arts in political science from Drake in 1978 and his doctorate in political science from the University of Iowa.
This event is sponsored by Principal Financial Group Center for Global Citizenship as part of its Fall 2014 Speaker Series. The Center educates students to function effectively in different cultural contexts, and to see their own culture from the perspective of others. The Center also works to ensure that global perspectives and issues are an integral part of the intellectual and cultural experience of all members of the Drake community.
Also upcoming in the Fall 2014 Speaker Series:
November 18: Zachary Nunn
Topic: Cyber Power as State Power: The Role of Cyber as an Instrument of National Influence
Location: Sussman Theater, Olmsted Center
Time: 7:00 – 8:30 p.m.
Zachary Nunn served as the Director of Cybersecurity Policy on the National Security Council, White House, where he helped author two Presidential Policy Directives on cyber response options for the US Government. A career intelligence officer, Nunn stood-up the Director on National Intelligence's Counter-Intelligence Office for Cyber – prioritizing US resources against hostile foreign state actors. Formerly, as Chief of Operations for Embassy Security, Zach supervised $25 billion in new embassy construction in Beijing, London, Moscow and Guangzhou. Awarded the Director's Exceptional Service Medallion and the Defense Meritorious Service Medal in 2014, Nunn's experience prior to working with the nation's secrets, includes flying 700 combat hours with the USAF over Iraq and Afghanistan, and teaching US Government to America's high school students. Nunn is now a cyber entrepreneur – helping 500 public-private partners find creative solutions to security challenges 'on the internet.' Zach's hometown is right up the road in Altoona, Iowa. After graduating Drake University in 2002, he earned a master's with distinction at the University of Cambridge.
For more information, contact David Skidmore, david.skidmore@drake.edu, 515-306-7164.