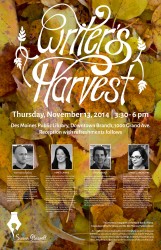 The Susan Glaspell Writers and Critics Series at Drake University, in conjunction with the Food Bank of Iowa, will present the 2014 Drake Writer's Harvest on Thursday, Nov. 13. The event will begin at 3:30 p.m. in the Downtown Des Moines Public Library, 1000 Grand Ave., and is free and open to the public.
Poets Sandy Longhorn and David Wolf, authors Aimee LaBrie and Joshua Dolezal, and two Drake students will present readings at the event while raising awareness and money for the Writer's Harvest. The Writer's Harvest program is the United States' largest literary benefit to fight hunger. Donations go to the Food Bank of Iowa.
Dolezal is author of a memoir, Down from the Mountaintop: From Belief to Belonging, and his essays have appeared in journals such as The Kenyon Review, Shenandoah, and Fourth Genre. He teaches as associate professor of English at Central College in Pella, Iowa.
Aimee LaBrie has had her stories published in over a dozen literary journals. Her collection of short stories, Wonderful Girl, won the Katherine Anne Porter Prize in Short Fiction in 2007. LaBrie currently works as the Communications Director for Rider University in Lawrence Township, New Jersey.
Sandy Longhorn has published three books, including The Girlhood Book of Prairie Myths, winner of the Jacar Press 2013 Full Length Book Contest. She currently teaches at Pulaski Technical College in North Little Rock, Ark.
Wolf is author of three collections of poetry: Open Season, The Moment Forever, and Sablier (Book I). His work has appeared in numerous literary magazines and journals. He lives in Des Moines and is professor and chair of English at Simpson College in Indianola, Iowa.
The Periphery Award readers are two Drake students, Ishaan Arora and Brita Olmstead. Arora is a senior Advertising Account Management and Writing double major. Olmstead is a sophomore double majoring in English and Magazine Journalism.
This event is sponsored by Periphery and the Des Moines Public Library in support of the Food Bank of Iowa. Periphery is a student run annual publication created to showcase the literary and artistic talents of Drake University and the Midwest. Periphery focuses on pushing beyond the conventional, featuring work that challenges accepted perceptions and ideas.
Visit http://artsci.drake.edu/english/writersandcritics for more information on Drake's Susan Glaspell Writers and Critics Series.