Welcome to JMC Days 2014!
Look for the posters around Meredith Hall and for the full list of JMC Days events here, including guest speakers in classes all week. All students are invited to sit in.
Monday: Keep eye out out around Meredith Hall today for Pulitzer Prize-winning columnist and author Leonard Pitts Jr.! He'll be available for drop-in visits from 3:30-4:30 p.m. in the E.T. Meredith Magazine Center, Mer. 111. And attend his lecture this evening at 7:30 in Sheslow Auditorium.
Tuesday: Learn how to pitch your ideas to the media in an interactive workshop at 8 p.m. In Mer. 237.
Wednesday: Listen to tips on how to get the internship of your dreams at 5 p.m. in Mer. 106, and polish your interview skills and meet alums from 3-6 p.m. In Mer. 104.
Thursday: A panel of distinguished area journalists will discuss the future of the industry at 7 p.m. in Cowles Reading Room.
Learn how to use LinkedIn to your job-hunting advantage in workshops on Thursday at 1 p.m. In Mer. 101 and Friday at 11 a.m. in Mer. 104.
And finish off the week at the all-SJMC student, faculty and alumni party on Saturday, 4-7 p.m. at the downtown Des Moines Social Club!
Live from Des Moines
Professor Jill Van Wyke and her JMC 73/103 reporting students pulled out the stops to cover the 2014 midterm elections, not only producing a 30-minute election preview show but then reporting live from around town on election night. Very impressive!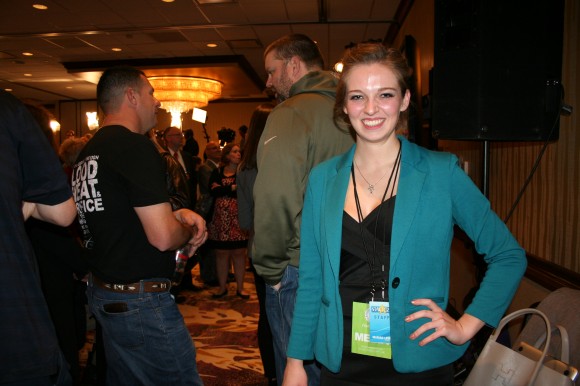 Also, SJMC broadcast news major Mariah Lewis (above) collected sound at the Republican party Tuesday night for CBS Radio through her part-time employer, The Des Moines Radio Group.
Thanks to…
Associate Dean David Wright and PR professor Kelly Bruhn, who attended the Journalism Education Association convention in Washington, D.C., last week to promote the SJMC to high school students from throughout the country.
Alumni corner
Adam Davis, a 2006 radio-TV alum, began his career in the film industry as an intern at Marvel Entertainment in Los Angeles. He now serves as project manager for Marvel and has made around around 10 short films, as well as writing children's books, according an interview in his hometown newspaper in Minnesota.