Mark your calendars for JMC Days 2014!
The School's annual JMC Days, a celebration of all things SJMC, will be held next week, Nov. 10-15. Look for posters around Meredith Hall with details. Some highlights:
Monday, Nov. 10: Pulitzer Prize-winning columnist and author Leonard Pitts Jr. will be on campus for a public lecture at 7:30 p.m. in Sheslow Auditorium. He will also meet with editing and reporting classes at 10 a.m. in Mer. 104.
Tuesday, Nov. 11: PRSSA is hosting an interactive media "pitching" workshop at 8 p.m. in Mer. 237. Give it your best shot!
Wednesday, Nov. 12: SPJ is hosting a panel with tips on how to get the internship you want at 5 p.m. in Mer. 106.
Thursday, Nov. 13: A panel of distinguished area media professionals will discuss the changing nature of the media industry and give advice to aspiring journalists at 7 p.m. in Cowles Library Reading Room.
Saturday, Nov. 15: Join faculty, staff and alumni at the downtown Des Moines Social Club, from 4 to 7 p.m., for a reception to celebrate our successes! Cash bar and free appetizers.
SJMC makes splash in Philly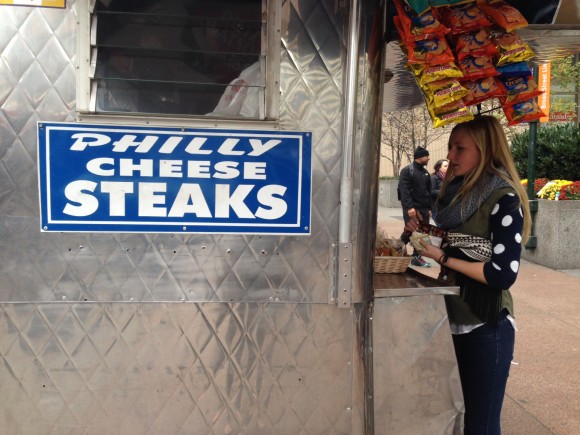 The SJMC was well-represented at the National College Media Convention in Philadelphia last week. Five students and one professor attended and presented sessions, nabbed national awards, underwent critiques of their publications, saw the sights of Philly – and indulged in cheesesteaks.
The highlight was scooping up armfuls of awards for students' work for Drake Magazine, Think and Urban Plains. Read more about the awards and about the trip.
Students produce election preview show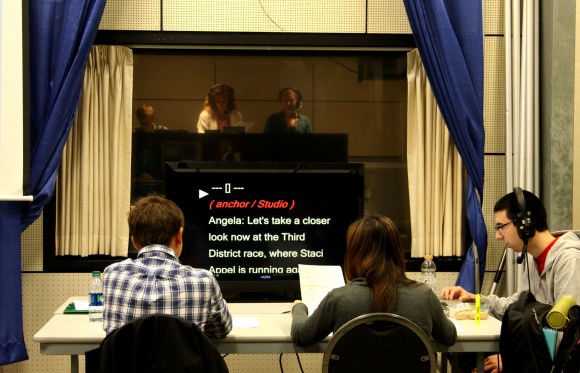 Journalism students in Jill Van Wyke's reporting class produced a 30-minute election preview show for Drake's campus radio station, KDRA 94.1FM. The show aired Saturday morning and airs again Monday (today) at 7 p.m. and 10 p.m.
The show is also available for listening on Drake Digital News.
The class will also live-blog election night results beginning about 9 p.m. Tuesday.
Faculty notes
Professor Lee Jolliffe is delivering a paper this week at the Symposium on 19th Century Press, the Civil War, and Free Expression in Chattanooga, Tenn. The paper, "Afire! Abolitionists' Speech and Press," examines suppression of human rights activist speech against slavery, and is part of a series of articles she has written about abolition and about self-emancipated slaves' experiences during their flight to and through the North. Her research has been supported by the Drake Center for the Humanities and the Drake Faculty Development Fund.
Join the national campaign against sexual violence
Drake is participating in a national campaign to raise awareness about sexual assault. The Coordinator for Sexual Violence Response & Healthy Relationship Promotion is looking for students, staff and faculty to contribute to a scripted, personalized campus video. Student groups are invited to participate. Scripts will be provided. Times, dates and locations are:
Wednesday, Nov. 5: 11 a.m.-1 p.m. in Helmick Commons Northside (rain alternative in upper Olmsted in the Mezzanine)
Friday, Nov. 14: 2-4 p.m. at Old Main Southside facing University Ave (rain alternative inside Old Main by Sheslow)
Registration Reminders
Before you register for classes – check to see if you are on hold. If so, you will not be allowed to register until the hold code is removed.
Registration times are based on the credit hours you have completed, earned or transferred in. It does not include what you are currently taking.
Make sure you check for restrictions and prerequisites before your registration time.
If you need help, email Carla McCrea at carla.mccrea@drake.edu.
Have a stress free registration by planning ahead!
Attention advertising majors and minors
Are you an Advertising Major or Minor? Are you curious about the Advertising Industry? Do you have vision, drive, and ambition that need to be channeled into an extraordinary career opportunity?
Registration is now open for our 2014 GRiT Student Event sponsored by the American Advertising Federation of Des Moines. The big event is Nov. 14 –Presentations by advertising professionals, collaborative campaign development, Q&A with pro's from all aspects of the ad industry, agency tours and more.
Click here to learn more about the event agenda and get registered today.