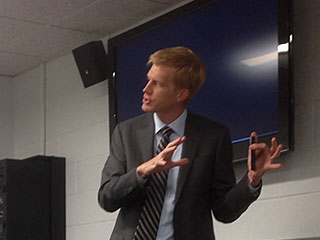 KCCI (TV) storyteller and morning anchor Eric Hanson shared video samples and "How-To" discussion with JMC100 students Oct. 29. The winner of significant state, regional and national news awards told students finding story focus and interesting characters are critical steps toward compelling, memorable results.
He credited a collaborative team of excellent photojournalists for his success.
Employed by the CBS affiliate since 2000, Hanson's newest responsibilities include co-anchoring the 4:30 to 7 a.m. weekday newscasts. He regularly produces "This Is Iowa" segments.
The Roland-Story High School graduate told students he's happy working with "Iowa's News Leader."
Hanson has flown to England, South Africa and Haiti to report on activities involving Central Iowans, but he has no interest in joining a network with its constant travel demands.