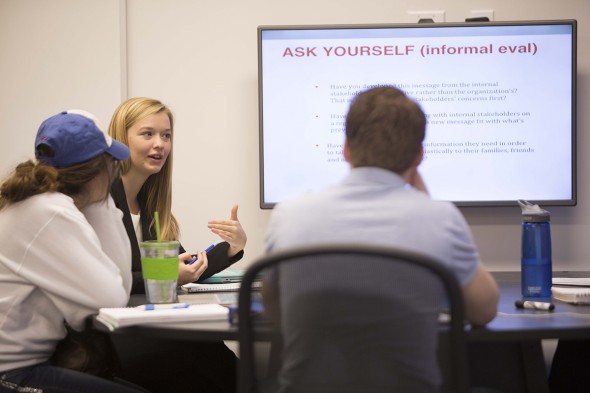 After a quick stop at the bustling Times-Delphic office to format a story for the Web, junior Sarah Fulton treks into the depths of Meredith Hall to record a radio spot for 94.1 The Dog. That same evening brings her and her camera in front of Old Main for a photo shoot, then to the computer lab to work on a graphic design project. Three years after arriving on campus with the goal of working in newspaper writing and reporting, Fulton's full day stretches her across a much broader spectrum of media.
As Fulton and others have realized, the journalism industry isn't what it used to be. In a fast-paced media environment, Drake's School of Journalism and Mass Communication has had to adapt or risk falling behind in an industry of constant change. With this backdrop in mind, Drake SJMC recently unveiled groundbreaking curriculum changes that take effect Fall 2015.
"It's one of the biggest reorganizations in recent memory," says SJMC Dean Kathleen Richardson. "It's been several decades since we've had these kinds of organizational changes in the majors."
Some of those changes will bring additions to the SJMC core curriculum, such as courses in basic finance and evolving media. A new Strategic Political Communications major takes advantage of Iowa's political clout to engage students with interests in both journalism and politics. Other adjustments include combining majors to form a more holistic student experience: two tracks within the advertising major will soon be combined, as will the former radio/TV production and broadcast news majors.
"I use the metaphor that we're rebuilding the plane around us as we're flying," says Richardson. "We can't stop, but have to evolve and do the right thing for our students."
Meaningful change requires visionary leadership and careful strategic focus as the school strives to find the right balance between the demands of emerging media fields and journalistic fundamentals.
"Our faculty is devoted to teaching the basics, but the reality is that our students have to be prepared for the multimedia online environment," says Richardson. "It's difficult, but we need to teach our students both aspects."
Part of SJMC's new multimedia education includes a collaborative capstone engaging students from a variety of majors. The yearlong course, focused around the management of a live website, will give students the opportunity to work collaboratively and, Richardson hopes, add to the strong tradition of Drake SJMC accolades.
"I'm so proud of the students and faculty here. They just do a hell of a job and are so hardworking and smart," she says. "It's a little nirvana of journalism and mass communication here in Des Moines, Iowa. You see the results because our students do so well in national contests and competitions."
The full effect of curriculum changes won't be known for a few years, but Richardson has high hopes for the possibilities.
"The SJMC is in a great place; we're going in the right direction and have a bright future," she says. "After retooling the curriculum, we also have plans to remodel and create a new digital media lab and production studio. We have this vision of Drake as a hub for digital communication and innovation, for not only the area, but for the whole nation."
Visit http://sjmc.drake.edu for the latest SJMC news and updates.