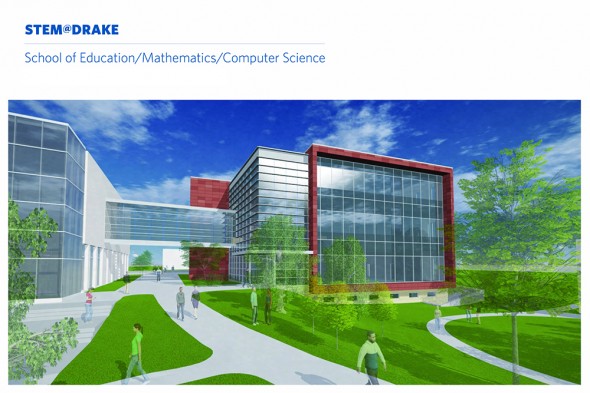 The Drake University Board of Trustees recently approved new degree programs in mathematics, science, education, technology, and health sciences while taking initial steps to further enhance the University's programming through $65 million in new construction and renovation. The recent board action allows the University to finalize architectural drawings, construction bids, and financing details for a STEM@DRAKE complex, which could receive the board's final approval as early as April 2015.
New academic programs that would be hosted within the proposed STEM@DRAKE complex include:
Commencing Fall 2015
Bachelor of Data Analytics (B.S. or B.A.)
Bachelor of Science in Kinesiology
Secondary Education Teaching License endorsement in health, physical education, and coaching
Commencing Fall 2016
Master of Science in Athletic Training (3+2 B.S. in Health Sciences)
Bachelor of Science in Pre-Occupational Therapy
Doctor of Occupational Therapy
"We are hearing from students who have strong interest in studying these disciplines, and they're students who should be at Drake in terms of their academic and personal profiles," said David Maxwell, president of Drake University. "At the same time we are working closely with local and national business leaders who have both immediate and long-term needs for graduates in these areas. Now is the time for a bold step forward to pair students with national workforce needs. It is an exciting opportunity to build on Drake's core focus on the integration of liberal education with preparation for the professions—equipping students with 21st century workplace skills and professional expertise."
Preparing the next generation of scientists, innovators, and educators
Through extensive research, Drake University administrators identified thousands of prospective students who align with the University's academic profile and are interested in kinesiology, athletic training, occupational therapy, and data analytics. "New programming will allow Drake to intentionally and strategically increase overall enrollment while maintaining the quality of the student experience and the culture of the University community," said Tom Delahunt, vice president for admission and student financial planning.
In addition, the physical integration of the School of Education with spaces shared by the sciences would allow interdisciplinary collaboration that better prepares the next generation of science teachers and helps meet a national shortage of STEM-educated teachers.
"While the quality of our faculty and students has never been higher, we know students desire and are attracted to modern facilities," said Delahunt. "When students apply to Drake but don't ultimately enroll here, we've learned they are attending peer institutions that have invested in STEM projects. We know that STEM@DRAKE will make an immediate difference to our prospective students and their families—bringing in students for new programs and boosting enrollment in our current programs."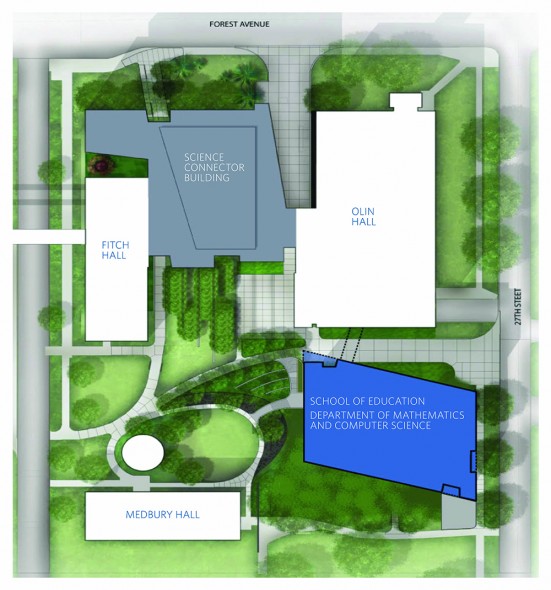 The STEM@DRAKE complex
Fully implemented, STEM@DRAKE, with its "E" for education, will add two new buildings to create an interconnected six-building hub for Drake's science, mathematics, computer science, and health sciences programs and the School of Education. The STEM@DRAKE complex would pair leading-edge technologies with innovative spaces for learning, research, experimentation, and collaboration while enabling tomorrow's teachers to learn alongside those training for professions in traditional STEM fields.
The proposed STEM@DRAKE complex would provide a homecoming of sorts for the School of Education, which has housed offices and classes in a building west of campus since 1990. A new building would serve as the home for the School of Education as well as the Department of Mathematics and Computer Science. That building would connect to Olin Hall through a second-story walkway. A second new building with laboratory and classroom space would connect Olin Hall and Fitch Hall.
The plans for which the board provided initial approval include completing renovations in Olin Hall, which provides classroom and research space for the biology, environmental science and policy, and psychology departments; and to Fitch Hall, Cline Hall of Pharmacy and Science, and Harvey Ingham Hall, which together house the College of Pharmacy and Health Sciences, chemistry department, and physics department. In the past three years the University has spent $5.9 million in philanthropic dollars, raised by the distinctlyDrake campaign, to renovate laboratories and classrooms and to open the Morgan E. Cline Atrium for Pharmacy and Science, a two-story collaborative learning space connecting Harvey Ingham and Cline halls.
Pending board approval, construction may begin as early as summer 2015 and conclude in fall 2017.
Next Steps
As the project progresses, it will require final approval by Drake's board of trustees for the funding structure and for the final architectural plans for each phase of the capital projects.
Pending final approval, construction is expected to begin in 2015 and take approximately two years.