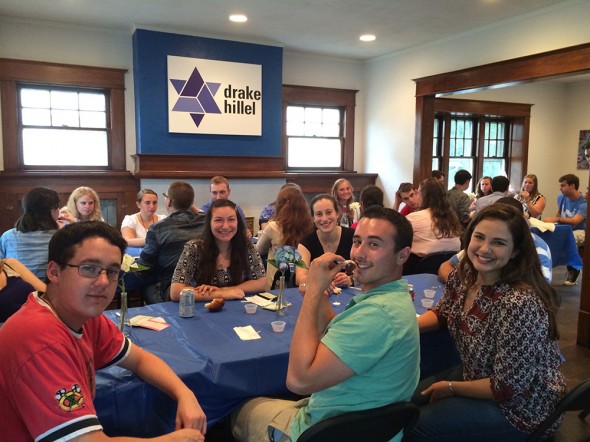 As the smell of fresh baked challah wafts through the air, more than 40 students take their places at rectangular dining tables. A stream of food rolls out of the kitchen while hungry chatter fills the dining room. Gathered around tables, under the Star of David on the mantle, members of Drake Hillel do something they haven't been able to for over 25 years: enjoy a Friday night Shabbat dinner in their own home.
The dinners began this fall when the new Hillel House on 31st Street opened its doors. After years of sharing space with other organizations in the Wesley House, the new home marks a milestone of independence for Drake Hillel, an organization that seeks to connect Jewish students on campus. The Hillel House serves as a meeting space, event location, and resource for all interested Drake students, regardless of their beliefs.
"Before we had the house, everything seemed impromptu," says Sam Brenner, Drake Hillel's vice president of community service. "There was this inconsistency that came from sometimes not being able to book the Wesley House or a campus location. We wanted to have a place where people feel welcome and can express their Judaism. We now have that home base."
Although the purchase of a house had been an ongoing discussion for a few years within the organization, it wasn't until last spring—with the help of the Jewish Federation of Greater Des Moines—that the dream became a reality. In May, Drake Hillel's advisor, Lilianna Bernstein, assistant director of admission, received a call from the Jewish Federation notifying them of a potential house for Drake Hillel.
"I was totally blown away," says Bernstein. "The Drake Hillel House went from dream to reality very quickly and I didn't even have a chance to blink."
The Federation's altruism extends beyond bricks and mortar (or, in this case, wood and stucco); the house also serves as an investment in the development of Judaism at Drake and beyond.
"The Jewish Federation really wants to invest in Des Moines and Drake because they want students to stay here after college and foster the local Jewish community," says Brenner. "We're going to have so many more programs—and so many diverse programs—to show people what we do and showcase our organization."
In addition to regular Sunday brunch meetings, Thursday movie nights, and periodic Shabbat dinners and community service projects, Hillel has seen attendance spike at special events such as their Rosh Hashana dinner and Community Open House. These events have reached members of Drake's Jewish community as well as those simply interested in learning more about Judaism.
"Drake Hillel is open to everyone on campus. There are students who come from a wide spectrum of Jewish backgrounds and observances at Drake," says Bernstein. "Likewise, there are many non-Jewish students who come to Hillel programs because they are interested in learning about a different perspective, want to celebrate a Jewish holiday, or just have a craving for matzah ball soup."
That welcoming atmosphere is characteristic of Drake's more than 160 clubs and organizations, where every Drake student is bound to find (at least one) home away from home. Visit https://wwww.drake.edu/life/clubsorganizations/ for more information, including a list of faith-based student organizations. For more information about Drake Hillel, contact Lilianna Bernstein at 515-271-2291 or lilianna.bernstein@drake.edu.