Spanish Translation Below
It was October 2009, and Crystal told herself, "it's now or never!" Crystal made her decision to chase her dream of becoming a Tejano singer. She picked up and moved to San Antonio, Texas, the heart of Tejano music. After a few years of singing locally and dropping a CD in January 2013, she was nominated and won "Best New Female Artist" at the Tejano Music Awards (TMA) in 2014.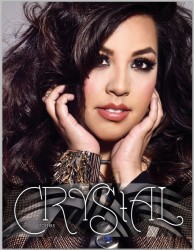 Crystal attended Des Moines Roosevelt High School, graduating in 2001. By her own definition, she was "a weirdo" in high school. Her interest in Tejano music was not like that of her friends who listened to hip-hop, rock, country or other genres of what many would consider regular music of teenagers. Crystal says that her mother is the one who introduced her to this genre at an early age and the singer Selena influenced and ignited her passion for the style of music.
Crystal's mother insisted that she get her education. She attended Iowa State University and graduated with a BA in 2005. In 2009, she graduated from Drake University with her Master's in Adult Learning and Organizational Performance with an emphasis in human resources.
Tejano (pronounced "tā hä nō) music started in Texas in the 1970s and is sometimes referred to as Tex-Mex music. It is based upon the button accordion and many times described as a mix of pop rock, R&B, Blues, Funk, Jazz, Country and Polka.  The Tejano Music Awards was established in 1980, to provide a forum to create greater awareness and appreciation for Tejano music. Each year, the awards are held in September in San Antonio, Texas.  (information from http://www.tejanomusicwards.com/about-2/)
Crystal is very proud of her hometown of Des Moines and when she has the opportunity to perform here, you will definitely see her. Many people told her that being a Tejano artist from Des Moines, she would never make it. Crystal would like anyone who has ambition or passion for something to, "never stop believing in their dreams!"
Crystal's CD, Corazon de Crystal, was released in January 2013. It includes songs, such as: Llegaste Tu, Infame, Llevas Mi Nombre, Podemos Volar, Tres Palabras, Crazy, Me Dan Ganas de Ti, Una Lagrima por Tu Amor, Echame a Mi la Culpa, Amor Eterno.
You can purchase Crystal Torres' music on: iTunes, CDBaby.com, Amazon.com and GooglePlay.
You can contact Crystal through Facebook at: www.facebook.com/crystaltorrestejano
Crystal's website: www.crystal-torres.com
¡Nacido en Des Moines, Crystal Torres, ganó "Mejor Nueva Artista Tejano" al 34a Tejano Music Awards del 2014!
¡En el octubre de 2009, Crystal le dijo a su mamá, "¡Es ahora o nunca!" Cristal tomó la decisión de perseguir su sueño de hacerse un cantante Tejano. Rápidamente, ella se movió a San Antonio, Texas, el corazón de la música Tejano. Después de unos años de cantar localmente y lanzar un CD en el enero de 2013, ella fue nominada y ganó el 'Mejor Nueva Artista Tejano' award en 2014.
Cristal asistió a la Escuela Secundaria de Des Moines Roosevelt, graduándose en 2001. Por su propia definición, ella era de "un tipo raro" en la escuela secundaria. Su interés en la música de Tejano no era como los intereses de sus amigos que escuchaban a hip-hop, roca, country u otros géneros de lo que muchos considerarían la música regular de adolescentes. Crystal dice que su mamá la presentó a ella la música Tejano cuando era muy joven. El cantante Selena influyó y encendió una pasión para Crystal para el estilo de la música mientras crecer.
La mamá de Cristal insistió que ella consiga su educación. Entones ella asistió a la Universidad de Iowa State y se graduó con un bachillerato en 2005. En 2009, ella se graduó de Drake University con su Maestría en el Aprendizaje de los Adultos y Organización con un énfasis en recursos humanos.
La música Tejano comenzó en Texas en los años 1970 y es a veces es referido a música
Tex-mejicana. Está basado sobre el acordeón `de botón y muchas veces descrito como una mezcla de música rock y pop, R&B, Blues, Cagueta, Jazz, Country y Polca.
Los Tejanos Music Awards (premios) fueron establecidos en 1980, proporcionar un foro para mejorar el conocimiento y la apreciación de la música Tejano. Cada año, los 'Awards' (premios) ocurren en el septiembre en San Antonio, Texas.
Cristal está muy orgulloso de su ciudad natal de Des Moines y cuándo ella tiene la oportunidad de cantar aquí, ¡usted la verá definitivamente! Muchas personas le decían a ella que nunca lo haría como una artista Tejano de Des Moines. Cristal le gustaría decir a cualquier persona con la ambición o la pasión para algo que, "¡Nunca deje de creer en sus sueños! ¡" Mira a ella ahora; ¡ella lo hizo!
El CD del Cristal, "Corazon de Crystal", fue lanzado en enero del 2013. Esto incluye canciones como: Llegaste Tú, Infame, Llevas Mi Nombre, Podemos Volar, Tres Palabras, Loco, Yo Dan Ganas de Ti, Una Lagrima por Tu Amor, Échame Mí la Culpa, Amor Eterno.
Usted puede comprar la música de Cristal Torres en: iTunes, CDBaby.com, Amazon.com y GooglePlay.
Puede cominicarse con Crystal por Facebook a: www.facebook.com/crystaltorrestejano
Crystal's website: www.crystal-torres.com
* información de http://www.tejanomusicwards.com/about-2/