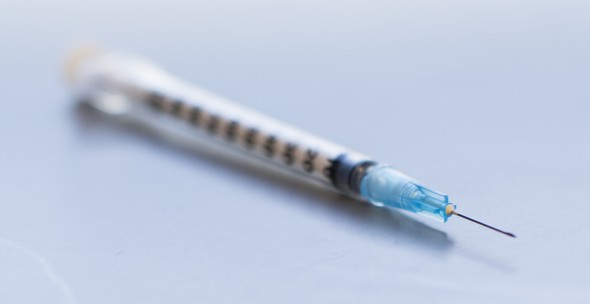 Pneumonia, or infection of the lung(s), can be severely debilitating—even fatal—to those who are at risk. For people living with health issues such as diabetes, a heart condition, or an autoimmune disease, pneumonia can be particularly dangerous.
"I think most people don't think of pneumonia as a life-threatening disease, " says Nicholas Lehman, assistant professor of clinical sciences. "We want to increase awareness in the Des Moines community that it is a serious illness that at-risk people should take precautionary measures against."
Drake University pharmacy students will work at local urgent care clinics between October 2014 and December 2016 to increase the pneumonia vaccination rate for at-risk adults through a new partnership between Drake's College of Pharmacy and Health Sciences, UnityPoint Health, and Pfizer, Inc.
Starting this fall, second- and third-year pharmacy students will be placed in two of UnityPoint's urgent care intervention clinics to review with all patients, including scheduled appointments and walk-ins, their eligibility for the vaccine. If patients are qualified, the student will explain the importance of the vaccine and answer any questions, as well as offer to have a staff member at the clinic administer the vaccine if they would like. The students will record the interactions with patients, both those who decline and accept the vaccine and why.
Drake and UnityPoint partnered last spring to submit a proposal to Pfizer, the pharmaceutical company that produces one of the available pneumococcal vaccines. The two organizations were awarded a total of $258,404 to implement the project.
"The grant will allow us to provide a novel opportunity for our students to be actively involved in helping improve preventative care in the Des Moines area," says Carrie Koenigsfeld, professor of clinical sciences.
The program will allow students to gain invaluable experience interacting with patients in a real clinical setting. They will be able to practice talking to patients and explaining things to them in an understandable way, while helping the Des Moines community at the same time.
The grant-funded program is set to run for two-and-a-half years. If the program is as successful as the CPHS hopes it will be, the project could be replicated at other urgent care clinics in Des Moines, with the possibility of expansion to all of UnityPoint's clinics in Iowa.