Mr. John Ligouri, retired teacher, administrator and Drake graduate, visited Dr. Shelley Fairbairn's Learning and Assessment students in September 2014. He brought invaluable knowledge from his 30 plus years of experience to Drake SOE students.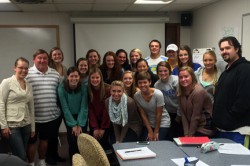 Mr. Ligouri spoke about the importance of classroom management and motivation (M&M) and the general "rules" of the game of teaching. Mr. Ligouri's stories of his experiences were presented with insight and humor to which the students responded favorably.
Mr. Ligouri has been sharing his wisdom with Drake pre-service teachers regularly in Dr. Fairbairn's classes since 2006. Although he no longer lives in the Des Moines area he still brings his professional experiences to the Drake School of Education students. Mr. Ligouri is very much appreciated for visiting the Drake students and for his service to the teaching profession!