The J129 class, Account Management, has been busy in the classroom and off campus in several locations in the City of Des Moines.
Earlier this semester students traveled to Oakridge Neighborhood Services to learn about this refugee community and services provided there.  Students began developing promotional ideas for a major fundraiser for the refugees, which the client is processing.
On September 25 the students visited the offices of ad agency Flynn Wright. They had an opportunity to tour the agency and meet with account personnel Katie Martin (SJMC Advertising alumna) and Andy Ireland. Students had frank discussions with Martin and Ireland about career prep, life at an ad agency, client relationships and other issues that concern the students. Among the items Martin shared with the students was that smart students can work anywhere, but the happiness of working in a place you enjoy is irreplaceable.
.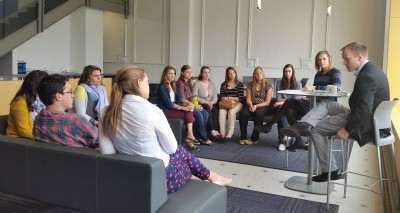 Students with Andy Ireland (far right) and SJMC Advertising alumna Katie Martin (second from right)