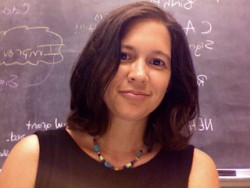 Renee Cramer has been elected president of the Consortium of Undergraduate Law and Justice Programs. The Consortium promotes undergraduate legal studies education in a wide variety of institutions in the United States and Canada.
The board of the Consortium is comprised of:
• Renee Cramer, Drake University – president
• Aaron Lorenz, Ramapo College – treasurer
• Renee Heberle, University of Toledo – secretary
• Paul Collins, University of Massachusetts-Amherst
• Joanna Grisinger, Northwestern University
• Jinee Lokaneeta, Drew University
• Shannon Portillo, University of Kansas
• Danielle Rudes, George Mason University
• Mary Nell Trautner, University at Buffalo
Cramer will serve a two-year term as president, and will lead the board in redeveloping the consortium website, fielding panels on undergraduate legal studies education at the annual meetings of the Law and Society Association and the Association for the Study of of Law, Culture, and the Humanities, and expanding opportunities for undergraduates to engage in law and society research. The Consortium will also focus on devising ways to share more widely the various practices and pedagogies that make law and justice programs distinctive.
For more information, contact Renee Cramer at renee.cramer@drake.edu or 515-271-2870.